Micro Process Engineering: A Comprehensive Handbook, 3 Volume Set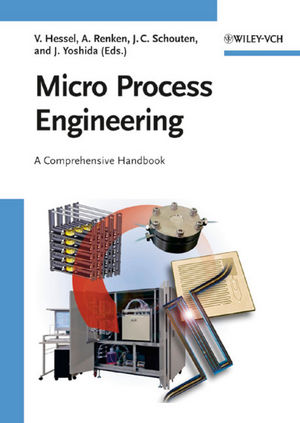 Micro Process Engineering: A Comprehensive Handbook, 3 Volume Set
ISBN: 978-3-527-31550-5 March 2009 1412 Pages
Description
This three-volume handbook provides an overview of the key aspects of micro process engineering.
Volume 1 covers the fundamentals, operations and catalysts, volume 2 examines devices, reactions and applications, with volume 3 rounding off the trilogy with system, process and plant engineering.

Fluid dynamics, mixing, heat/mass transfer, purification and separation microstructured devices and microstructured reactors are explained in the first volume.

Volume 2 segments microreactor design, fabrication and assembly, bulk and fine chemistry, polymerisation, fuel processing and functional materials into understandable parts.

The final volume of the handbook addresses microreactor systems design and scale-up, sensing, analysis and control, chemical process engineering, economic and eco-efficiency analyses as well as microreactor plant case studies in one book.

Together, this 3-volume handbook explains the science behind micro process engineering to the scale-up and their real life industrial applications.

Buy Both and Save 25%!
Original Price:$939.00
Purchased together:$704.25
save $234.75
Cannot be combined with any other offers.
VOLUME I: Fundamentals, Operations and Catalysts

FLUID DYNAMICS IN MICROCHANNELS
Multiphase Flow
Microfluidic Networks
Boiling and Two-Phase Flow in Microchannels
Microscale Flow Visualization
Modeling of Microfluidic Devices
MIXING IN MICROSYSTEMS
Characterization of Mixing and Segregation in Homogeneous Flow Systems
Passive and Active Micromixers
Mixing and Contacting of Heterogeneous Systems
HEAT/MASS TRANSFER
Heat Transfer in Homogeneous Systems
Transport Phenomena in Microscale Reacting Flows
Fluid-Fluid and Fluid-Solid Mass Transfer
MICROSTRUCTURED DEVICES FOR PURIFICATION AND SEPARATION PROCESSES
Extraction
Capillary Electrochromatography
MICROSTRUCTURED REACTORS
Homogeneous Reactions
Heterogeneous Multiphase Reactions
Photoreactors
Microstructured Reactors for Electrochemical Synthesis

VOLUME II: Devices, Reactions and Applications

MICROREACTOR DESIGN, FABRICATION AND ASSEMBLY
Silicon and Glass Microreactors
Metallic, Steel, Ceramic and Plastic Microreactors
BULK AND FINE CHEMISTRY
Liquid- and Liquid-Liquid-Phase Reactions -
Aliphatic Substitution Reactions
Liquid- and Liquid-Liquid-Phase Reactions -
Aromatic Substitution Reactions
Liquid- and Liquid-Liquid-Phase Reactions -
Addition and Elimination
Liquid- and Liquid-Liquid-Phase Reactions -
Coupling Reactions
Liquid- and Liquid-Liquid-Phase Reactions -
Oxidations and Reduction
Gas-Liquid-Phase Reactions: Substitution
Gas-Liquid-Phase Reactions: Addition
Gas-Liquid-Phase Reactions: Reduction
Gas-Liquid-Phase Reactions: Miscellaneous Reactions
POLYMERIZATION
Free Radical Polymerization
Living Radical Polymerization
Cationic Polymerization
Polycondensation
FUNCTIONAL MATERIALS
Organic Particles and Pigments
Inorganic Particles
Polymer Particles
Microencapsulates, Proteins and Lipids/Vesicles
Oil-in-Water and Water-in-Oil Emulsions
Double, Triple and Complex Multilayered Emulsions
Microreactor Applications in the Consumer Goods Industry
FUEL PROCESSING
Application and Operation of Microreactors for Fuel Conversion
Steam Reforming
Partial Oxidation
CO Clean-Up: Water Gas Shift and Methanation Reactions
CO Clean-Up: Preferential Oxidation

VOLUME III: System, Process and Plant Engineering

MICROREACTOR SYSTEMS DESIGN AND SCALE-UP
Structured Multi-Scale Process Systems Design and Engineering -
The Role of Microreactor Technology in Chemical Process Design
Reaction and Process System Analysis, Miniaturization and Intensification Strategies
Principles and Guidelines for Selection of Microstructured Devices for Mixing and Reaction
Catalyst Development, Screening and Optimization
SENSING, ANALYSIS, AND CONTROL
Microtechnology and Process Analytics
Optical In-Line Spectroscopy in Microchemical Processes
On-Line Monitoring of Reaction Kinetics in Microreactors Using Mass Spectrometry and Micro-NMR Spectroscopy
Automation and Control of Microprocess Systems
MICROREACTOR PLANTS: CASE STUDIES
Industrial Microreactor Process Development up to Production
Microreactor Plant for the Large-Scale Production of a Fine Chemical Intermediate: A Technical Case Study
Development and Scale-Up of a Microreactor Pilot Plant Using the Concept of Numbering-Up
Microstructures as a Tool for Production in the Tons per Hour Scale
ECONOMICS AND ECO-EFFICIENCY ANALYSES
The Economic Potential of Microreaction Technology
Life Cycle Assessment of Microreaction Technology Versus Batch Technology -
A Case Study
Exergy Analysis of a Micro Fuel Processing System for Hydrogen ald Electricity Production -
A Case Study