Micro Trading Tactics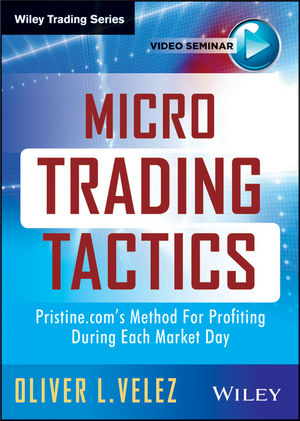 Micro Trading Tactics
ISBN: 978-1-118-63327-4
Apr 2013
Description
Run time: 90 minutes. Unlike Swing Traders, who often hold positions for 2-5 days, astute Micro Traders jump on breakouts – as well as breakdowns – moving in and out of positions quickly each market day. They often find opportunity in 5 or 15-minute charts, taking frequent, bite-sized profits out of the market on a daily basis. This technique can be immensely rewarding – but it takes skill and training to survive such rapid-fire moves.
In this groundbreaking new course, Pristine.com's Oliver Velez presents powerful methods for mastering the fine art of Micro Trading with maximum precision. You'll discover:
Micro Trading strategies that work in bull or bear markets
All the tools you need to become a masterful micro trader
How to profit from the "market maker's lunch"
What period of the market day provides the best risk/reward – and what times to avoid at all cost
Trade set-ups that make him "salivate"
Plus …the Pristine Gap Plus Tactic, the Pristine 5 and 30-minute trading rules, the Pristine Late Day Breakout Strategy, and plenty of other trading tips you can't find anywhere else.