Microbial Proteomics: Functional Biology of Whole Organisms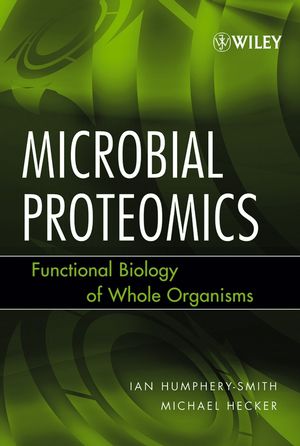 Microbial Proteomics: Functional Biology of Whole Organisms
ISBN: 978-0-471-97315-7
Jun 2006
530 pages
Description
Discover important lessons learned about whole organism biology via microbial proteomics
This text provides an exhaustive analysis and presentation of current research in the field of microbial proteomics, with an emphasis on new developments and applications and future directions in research. The editors and authors show how and why the relative simplicity of microbes has made them attractive targets for extensive experimental manipulation in a quest for both improved disease prevention and treatment and an improved understanding of whole organism functional biology. In particular, the text demonstrates how microbial proteomic analyses can aid in drug discovery, including identification of new targets, novel diagnostic markers, and lead optimization.
Each chapter is written by one or more leading experts in the field and carefully edited to ensure a consistent and thorough approach throughout. Methods, technologies, and tools associated with the most promising approaches are stressed. Key topics covered include:
Microbial pathogenesis at the proteome level
Whole cell modeling
Structural proteomics and computational analysis
Biomolecular interactions
Physiological proteomics
Metabolic reconstruction using proteomics data
While presenting the practical utility of proteomics data, the text is also clear on the field's current limitations, pointing to areas where further investigation is needed.
Offering a state-of-the-art perspective from internationally recognized experts, this text is ideally suited for researchers and students across the gamut of genomic sciences, including biochemistry, microbiology, molecular biology, genetics, biomedical and pharmaceutical sciences, biotechnology, and veterinary science.
PREFACE.
ACKNOWLEDGMENTS.
CONTRIBUTORS.
PART I: GENERAL PROTEOMICS OF MICROORGANISMS/MODEL ORGANISMS.
1. Holistic Biology of Microorganisms: Genomics, Transcriptomics, and Proteomics (Valerie Wasinger).
2. Strategies for Measuring Dynamics: The Temporal Component of Proteomics (Robert J. Beynon and Julie M. Pratt).
3. Quest for Complete Proteome Coverage (C. David O'Connor, Ian N. Clarke, and Paul Skipp).
4. Proteome of Mycoplasma pneumoniae (Richard Herrmann and Thomas Ruppert).
5. Proteomics of Archaea (Ricardo Cavicchioli, Amber Goodchild, and Mark Raftery).
PART II: PROTEOMICS AND CELL PHYSIOLOGY.
6. Elucidation of Mechanisms of Acid Stress in Listeria monocytogenes by Proteomic Analysis (Luu Phan-Thanh and Lothar Jänsch).
7. Oxidation of Bacterial Proteome in Response to Starvation (Thomas Nyström).
8. Tale of Two Metal Reducers: Comparative Proteome Analysis of Geobacter sulferreducens PCA and Shewanella oneidensis MR-1 (Carol S. Giometti).
9. AMT Tag Approach to Proteomic Characterization of Deinococcus radiodurans and Shewanella oneidensis (Mary S. Lipton, Margaret F. Romine, Matthew E. Monroe, Dwayne A. Elias, Ljiljana Pasa-Tolic, Gordon A. Anderson, David J. Anderson, Jim Fredrickson, Kim K. Hixson, Christophe Masselon, Heather Mottaz, Nikola Tolic, and Richard D. Smith).
PART III: PHYSIOLOGICAL PROTEOMICS OF INDUSTRIAL BACTERIA.
10. Proteomics of Corynebacterium glutamicum: Essential Industrial Bacterium (Andreas Burkovski).
11. Proteomics of Lactococcus lactis: Phenotypes for a Domestic Bacterium (Mogens Kilstrup).
12. Proteomic Survey through Secretome of Bacillus subtilis (Haike Antelmann, Jan Maarten van Dijl, Sierd Bron, and Michael Hecker).
PART IV: PROTEOMICS OF PATHOGENIC MICROORGANISMS.
13. Analyzing Bacterial Pathogenesis at Level of Proteome (Phillip Cash).
14. Unraveling Edwardsiella tarda Pathogenesis Using the Proteomics Approach (P. S. Srinivasa Rao, Yuen Peng Tan, Jun Zheng, and Ka Yin Leung).
15. Structural Proteomics and Computational Analysis of a Deadly Pathogen: Combating Mycobacterium tuberculosis from Multiple Fronts (Michael Strong and Celia W. Goulding).
16. Proteomic Studies of Plant-Pathogenic Oomycetes and Fungi (Catherine R. Bruce, Pieter van West, and Laura J. Grenville-Briggs).
17. Candida albicans Biology and Pathogenicity: Insights from Proteomics (Aida Pitarch, Ce´sar Nombela, and Concha Gil).
18. Contributions of Proteomics to Diagnosis, Treatment, and Prevention of Candidiasis (Aida Pitarch, Ce´sar Nombela, and Concha Gil).
19. Identification of Protein Candidates for Developing Bacterial Ghost Vaccines against Brucella (Vito G. Delvecchio, Tim Alefantis, Rodolfo A. Ugalde, Diego Comerci, Maria Ines Marchesini, Akbar Khan, Werner Lubitz, and Cesar V. Mujer).
20. Genomics and Proteomics in Reverse Vaccines (Guido Grandi).
PART V: PROTEOME DATABASES, BIOINFORMATICS, AND BIOCHEMICAL MODELING.
21. Databases and Resources for in silico Proteome Analysis (Manuela Pruess, Paul Kersey, Tamara Kulikova, and Rolf Apweiler).
22. Interspecies and Intraspecies Comparison of Microbial Proteins: Learning about Gene Ancestry, Protein Function, and Species Life Style (Bernard Labedan and Olivier Lespinet).
23. Cellular Kinetic Modeling of the Microbial Metabolism (Igor I. Goryanin, Galina V. Lebedeva, Ekaterina A. Mogilevskaya, Eugeniy A. Metelkin, and Oleg V. Demin).
INDEX.
""The authors have provided a thorough overview of what is still a relatively new field of study."" (CHOICE, January 2007)