Microbiology, Binder Ready Version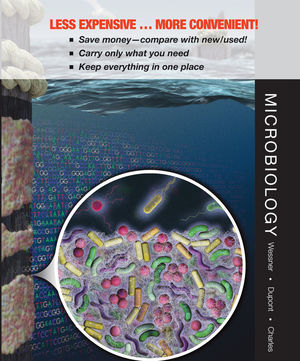 Microbiology, Binder Ready Version
ISBN: 978-1-118-54798-4
Nov 2012
960 pages
Product not available for purchase
Description
Microbiology: Applications and Connections, Binder Ready Version helps to develop a meaningful connection with the material through the incorporation of primary literature, applications and examples. The text offers an ideal balance between comprehensive, in-depth coverage of core concepts, while employing a narrative style that incorporates many relevant applications and a unique focus on current research and experimentation. The book frames information around the three pillars of physiology, ecology and genetics, which highlights their interconnectedness and helps students see a bigger picture. This innovative organization establishes a firm foundation for later work and provides a perspective on real-world applications of microbiology. This text is an unbound, binder-ready edition.
MINI-PAPERS
·         Each chapter includes a Mini-Paper example in which key research papers are summarized, and original data is presented and interpreted.  Critical thinking questions called "Questions for Discussion" are offered at the end  of each  Mini-Paper to help  students learn  to ask intelligent questions and design and evaluate experiments.
CONNECTION NOTES
·         Connection notes emphasize the interconnectedness of topics, both within a chapter and between chapters.
ANIMATIONS
·         Over 125 animations accompany the text, many of which have been developed by Janet Iwasa using 3D animation techniques. Following the unique style of the Chapter Opener illustrations, and developed to support learning objectives in the text, these animations help students visualize and master the toughest topics in Microbiology. The 3D animations are indicated by an icon.
IMAGE IN ACTION
·         This active learning feature revisits the chapter opener art and includes several critical thinking questions to help students understand how the art and chapter content are connected.
TOOLBOX
·         Toolbox examples present and explain important techniques and/or experiments.
CHAPTER VIGNETTE WITH ORIGINAL ART
·         Every chapter begins with an opening vignette that frames a basic question within the context of both contemporary and historical issues.  Each vignette is visually supported by original art created by Janet Iwasa, Harvard Medical School.
CHAPTER NAVIGATOR
·         Organizes the chapter by key concepts and directs students to the most important elements (i.e., examples, animations, tables) within the chapter to support each concept.
THE REST OF THE STORY
·         This offers a conclusion to the opening vignette and links it more explicitly to the chapter content.
MICROBES IN FOCUS
·   Microbes in Focus examples provide a more detailed description of the habitat and key features of specific microbes that are mentioned in the chapter.
FACT CHECKS
·         Each section of the chapter ends with 3-5 questions to test students' understanding of content in that section.
PROCESS DIAGRAMS
·         Each chapter includes selected, numbered Process Diagrams to lend clarity to the flow of complex processes.