Microbiology: Principles and Explorations, 10th Edition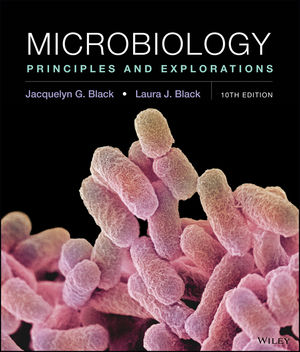 Microbiology: Principles and Explorations, 10th Edition
ISBN: 978-1-119-39011-4
Dec 2017
Description
Microbiology: Principles and Explorations is an introductory product that has successfully educated thousands of students on the beginning principles of Microbiology. Using a student-friendly approach, this product carefully guides students through all of the basics and prepares them for more advanced studies.
1. Scope and History of Microbiology
2. Microbiomes
3. Fundamentals of Chemistry
4. Microscopy and Staining
5. Characteristics of Prokaryotic and Eukaryotic Cells
6. Essential Concepts of Metabolism
7. Growth and Culturing of Bacteria
8. Microbial Genetics
9. Gene Transfer and Genetic Engineering
10. An Introduction to Taxonomy: The Bacteria
11. Viruses
12. Eukaryotic Microorganisms and Parasites
13. Sterilization and Disinfection
14. Antimicrobial Therapy
15. Host-Microbe Relationships and Disease Processes
16. Epidemiology and Nosocomial Infections
17. Innate Host Defenses
18. Basic Principles of Adaptive Immunity and Immunization
19. Immune Disorders
20. Diseases of the Skin and Eyes: Wounds and Bites
21. Urogenital and Sexually Transmitted Diseases
22. Diseases of the Respiratory System
23. Oral and Gastrointestinal Diseases
24. Cardiovascular, Lymphatic, and Systemic Diseases
25. Diseases of the Nervous System
26. Environmental Microbiology
27. Applied Microbiology
- A New Section on Microbiomes: Microbiomes is a current hot topic in microbiology. This new section lays the foundation for deeper discussions later in the course.

- Additional Content Updates: New CDC data, updated and improved photographs, and streamlined content have been added to the course.
- Opening Vignettes: Two-page vignettes at the beginning of each course section engage students with the concepts to be covered by drawing a connection between the learning objectives of the section and hot issues in the field as well as applications and factoids of high interest.
- Microbiology Roadmap: Found at the end of each course section are "roadmaps" that serve as study guides highlighting the key concepts students should be understanding and comprehending.