Microeconomics, 5th Edition International Student Version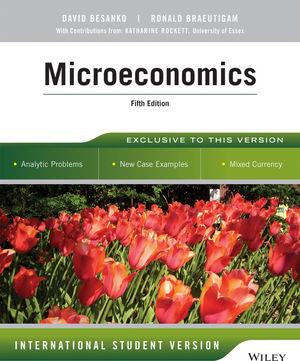 Microeconomics, 5th Edition International Student Version
ISBN: 978-1-118-71638-0
May 2014
712 pages
Product not available for purchase
Description
Microeconomics, 5th Edition gives students the most effective approach for learning microeconomic tools and concepts. This text provides an accessible, integrated structure with numerous practice problems, exercises, and engaging applications.  Worked-out Learning-by-Doing problems, mathematical and graphical data, and verbal explanations enable business and economics majors to recognize significant data, patterns, and trends.
PART 1 INTRODUCTION TO MICROECONOMICS

1. Analyzing Economic Problems

2. Demand and Supply Analysis

PART 2 CONSUMER THEORY

3. Consumer Preferences and the Concept of Utility

4. Consumer Choice

5. The Theory of Demand

PART 3 PRODUCTION AND COST THEORY

6. Inputs and Production Functions

7. Costs and Cost Minimization

8. Cost Curves

PART 4 PERFECT COMPETITION

9. Perfectly Competitive Markets

10. Competitive Markets: Applications

PART 5 MARKET POWER

11. Monopoly and Monopsony

12. Capturing Surplus

PART 6 IMPERFECT COMPETITION AND STRATEGIC BEHAVIOR

13. Market Structure and Competition

14. Game Theory and Strategic Behavior

PART 7 SPECIAL TOPICS

15. Risk and Information

16. General Equilibrium Theory

17. Externalities and Public Goods

Mathematical Appendix

Solutions to Selected Problems

Glossary

Index
New applications with a focus on current events such as health care reform in the U.S., the collapse of AIG, parking meter privatization in Chicago, and the bailout of the Parmesan cheese industry in Italy.
New content on pay for performance has been added to Chapter 15 and on contrasting emissions fees, emission standards, and tradable permits to Chapter 17.
Custom Content allows instructors to customize this textbook with Hot Topic modules, Darden cases, and other content from Wiley's Professional Development titles.
Learning By Doing Exercises in each chapter illustrate the core ideas and guide the student through specific numerical problems in each chapter.
End-of-Chapter Problems will be available through Respondus to provide more integration with a variety of different LMSs.