Microeconomics for Public Managers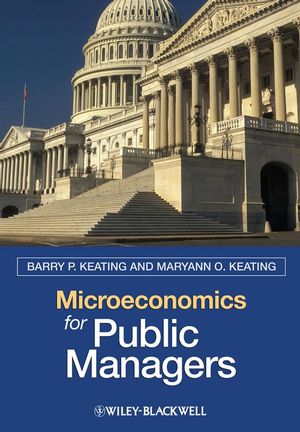 Microeconomics for Public Managers
ISBN: 978-1-405-12543-7
Nov 2008, Wiley-Blackwell
440 pages
Description
Microeconomics for Public Managers presents a rigorous non-mathematical introduction to the study of microeconomics geared towards managers of nonprofit institutions.
Provides an introduction to the economist's toolkit for students destined for not-for-profit enterprises and public institutions
Topics are selected for their relevance to the non-profit sector, enabling key issues to be covered in greater depth than standard microeconomic textbooks
Pertinent case studies and cost-benefit analysis are utilized throughout
Features end-of chapter problem sets and study questions
Describes economic decision-making applicable to non-profit managers

Accompanying website with instructor materials is available at www.blackwellpublishing.com/keating
List of Figures.
List of Tables.
Preface.
Acknowledgments.
Organizational Alternatives.
Part I: Institutional Setting:.
1. Managerial Economics in Public and Nonprofit Administration: An.
Overview.
2. Characteristics of the Government and Private Nonprofit Sectors.
Part II: Consumer Theory and Public Goods:.
3. Demand and Supply.
4. Estimating Client Choice.
5. Market Failure and Public Choice.
Part III: Production Theory and Public Administration:.
6. Production and Costs.
7. Market Structure in Government and Nonprofit Industries.
8. Selecting the Right Niche and Setting Client Fees.
9. Strategic Goals: If Not Profit, What?.
Part IV: Input Markets and Cost--Benefit Analysis:.
10. Employing Labor and Capital.
11. Cost--Benefit Analysis.
Index
"I think this book begins to fill a serious gap in the market. Many students are turned off by economics because they don't see its applicability for their jobs. This book makes economics relevant to the NFP manager."
Robert T. Greenbaum, Ohio State University
"This book does a fine job meeting the needs of Public Administration students."
John Graham, Rutgers University

"The Keatings' approach of using cost-benefit analysis as a capstone is for the best, since it gets students to use what they have learned about markets and the information contained in market prices, and what they have learned about market failure, in a unified application."
Michael Rushton, Indiana University

"The exercises are a lot more useful for public management students than the ones in standard economics textbooks. They are the kind I end up writing for myself."
John McPeak, Syracuse University
•   Provides
an introduction to the economist's toolkit
for students destined for not-for-profit enterprises and public institutions
•   Over 40 applications are presented based on current administrative issues and research
•   Topics are selected for their relevance to the non-profit sector, enabling key issues to be covered in greater depth than standard microeconomic texts
•   Pertinent case studies and cost-benefit analysis
•   Each chapter features end-of chapter problem sets, study questions, and concluding notes or learning objectives
•   Describes economic decision-making applicable to non-profit managers
•   Streamlined organization - Four parts that use a traditional microeconomic framework