Microfossils, 2nd Edition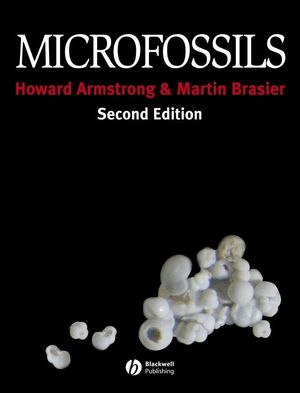 Microfossils, 2nd Edition
ISBN: 978-1-118-68544-0
May 2013, Wiley-Blackwell
306 pages
Description
This is a new and completely rewritten edition of the well-known text Microfossils (first published in 1980) covering all the major microfossil groups, with information on taxonomy, phylogeny, ecology and palaeoecology.
particular attention is given to the uses of microfossils in environmental reconstruction and biostratigraphy
numerous line and half-tone illustrations
emphasis on practical applications of micropalaeontology
only student-friendly micropaleontology text available
Preface.
Part 1 Applied micropalaeontology.
Chapter 1 Introduction.
Chapter 2 Micropalaeontology, evolution and biodiversity.
Chapter 3 Microfossils in Stratigraphy.
Chapter 4 Microfossils, stable isotopes and ocean-atmosphere history.
Chapter 5 Microfossils as thermal metamorphic indicators.
Part 2 The rise of the biosphere.
Chapter 6 The origin of life and the Archean biosphere.
Chapter 7 Emergence of eukaryotes to the Cambrian explosion.
Chapter 8 Bacterial ecosystems and microbial sediments.
Part 3 Organic walled microfossils.
Chapter 9 Acritarchs and prasinophytes.
Chapter 10 Dinoflagellates and Ebridians.
Chapter 11 Chitinozoa.
Chapter 12 Scolecodonts.
Chapter 13 Spores and pollen.
Part 4 Inorganic walled microfossils.
Chapter 14 Calcareous nannoplankton: Coccolithophores and Discoasters.
Chapter 15 Formainifera.
Chapter 16 Radiozoa (Acantharia, Phaeodaria and Radiolaria) and Heliozoa.
Chapter 17 Diatoms.
Chapter 18 Silicoflagellates and Chrysophytes.
Chapter 19 Ciliophora: Tintinnids and Calpionellids.
Chapter 20 Ostracods.
Chapter 21 Conodonts.
Systematic Index.
General Index.
"If I were a student once again starting out in my micropalaeontological career, this would have to be on my shopping list...It is books like this that will hopefully catch the interest of undergraduates and persuade them to continue within the field and regenerate our ageing skills pool." (
Newsletter of Micropalaeontology
, September 2005)
"Overall, I found the second edition of Microfossils to be an excellent book and one I highly recommend....[it] will make an excellent text for an introductory course in micropaleontology, or as a supplement to an invertebrate paleontology course." (American Association of Stratigraphic Palynologists Newsletter, April 2006)
"...a very valuabel re-addition to the micropalaeontological literature available to undergraduate students..." (Journal of Quaternary Science, June 2006)


a new and completely rewritten edition of the well-known text Microfossils (first published in 1980).

all major microfossil groups are covered, with information on taxonomy, phylogeny, ecology and palaeoecology

particular attention is given to the uses of microfossils in environmental reconstruction and biostratigraphy

numerous line and half-tone illustrations

emphasis on practical applications of micropalaeontology

only student-friendly micropaleontology text available