Micropropagation of Orchids, 3 Volume Set, 3rd Edition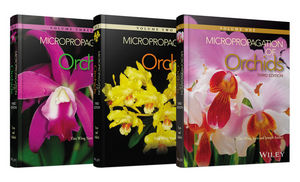 Micropropagation of Orchids, 3 Volume Set, 3rd Edition
ISBN: 978-1-119-18708-0 July 2017 2368 Pages
Description
Divided into three volumes, Micropropagation of Orchids Third Edition retains the exhaustive list of micropropagation protocols for many genera and updates each section to include new and/or revised information about:
Culture media and vessels
Techniques and procedures for both orchids which were previously cultured and for those which were not
Plant hormones and growth regulators
Media components
Methods for tissue decontamination
Historical information
Procedures for the cultivation for plantlets which have been removed from flasks
Sources of light and illumination methods
Written by two globally acknowledged experts in the field, the third edition of this definitive text on the micropropagation of orchids is a detailed and comprehensive collection of procedures and methods for multiplying orchids, including organ, tissue, and cell culture techniques in vitro and is intended for researchers in plant science and propagation, professional and amateur orchid growers, and plant breeding professionals. Much of the general information about techniques and procedures can be applied to plants other than orchids.
Table of contents
Preface
Preface to the Second Edition
Preface to the First Edition
Chapter 1: History
Terminology
Origins of Orchid Micropropagation
Plant Hormones and Propagation Additives of Plant Origin
Culture of Tissues and Organs
Early Tissue Culture Attempts
Culture of Stem Tips
First Micropropagation of Orchids
The Second Aseptic Culture of an Orchid Explant
Plant Diseases and Meristems
The Third Aseptic Culture of an Orchid Explant
The Fourth Aseptic Culture of an Orchid Explant
Who Pioneered Micropropagation?
Root Cultures
Leaf Cultures
Stems
Flower Buds, Flowers, Floral Segments, and Reproductive Organs
Inflorescences
A Patent
Doubtful Claims
Mutations
Theft in Vitro
Darkening of Culture Media
Anticontaminants
Cell and Protoplast Culture
Flowering in Vitro,
The Future
Chapter 2: General Outline of Techniques and Procedures
Media Components
Macroelements
Microelements
Iron
Auxins and Anti-auxin
Chitosan
Cytokinins
Gibberellins and Antigibberellin
Abscisic Acid
Ethylene and Ethylene Inhibitor
Amino Acids
Polyol
Polyamines
Phloroglucinol
Jasmonates
Vitamins
Nucleotides and Nucleic Acids
Organic Acids
Banana
Coconut Water
Hydrolysates and Autolysates
Sugars
Anticontaminants
Charcoal
Solvents
Solidifiers
pH
Recipes in this Book
Stock Solutions
State of the Medium
Sterilization
Autoclaves
Filtration
Sterilization in Microwave Ovens
Solvents
Open Flame
Liquids
Surface Decontamination
Gas Sterilization
Preparation of the Medium
Culture Vessels
Culture Conditions
Temperature
Agitation
Illumination
Carbon Dioxide
Placing Plant Material in Culture
Seeds
Tissue Explants
Internal Contaminants
Enzymes for Protoplast Isolation
Work Area
Laminar-flow Hoods
Sterile Rooms
Sterile Boxes
Clean Laboratory Bench
Washing Glassware
Chapter 3: Methods for Specific Genera
Acampe
Aeridachnis
Aerides
Aeridovanda
Anacamptis
Angraecum
Anoectochilus
Ansellia
Arachnis
Arachnostylis
Aranda
Aranthera
Arundina
Ascocenda
Ascocentrum
Ascofinetia
Barlia
Bletilla
Brassavola
Brassia
Brassocattleya
Brassolaeliocattleya, 277
Bulbophyllum
Burkillara
Caladenia
Calanthe
Catasetum
Cattleya
Caularthron
Cleisostoma
Clowesia
Coelogyne
Cymbidium
Cypripedium
Cyrtopodium
Dactylorchis
Dactylorhiza
Darwinara
Dendrobium, 518
Disa
Diuris
Doriella
Doritaenopsis
Doritis, 693
Encyclia
Epidendrum
Epiphronitis
Erycina
Eulophia
Gastrochilus
Geodorum
Goodyera
Grammatophyllum
Habenaria
Hadrolaelia
Hetaeria
Holttumara
Ipsea
Kagawara
Laelia
Laeliocattleya
Liparis
Ludisia (Haemaria)
Luisia
Lycaste
Malaxis
Maxillaria
Miltonia
Mokara
Mormodes
Neofinetia
Neostylis
Neottia
Nervilia
Nigritella
Oberonia
Odontioda
Odontoglossum
Odontonia
Oncidium
Ophrys
Orchis
Ottochilus
Pachystoma
Paphiopedilum
Papilionanda
Papilionanthe, 901
Phaius
Phalaenopsis
Pholidota
Phragmipedium
Pleione
Pogonia
Ponerorchis
Potinara
Pterostylis
Renades
Renanetia
Renantanda
Renanthera
Restrepia
Rhynchostele
Rhynchostylis
Saccolabium
Sarcanthus
Satyrium
Schomburgkia
Serapias
Sophrolaeliocattleya
Spathoglottis
Spiranthes
Tainia
Thelymitra
Thunia
Trudelia
Vanda
Vandofinetia
Vanilla
Vascostylis
Vuylstekeara, 1292
Zygopetalum, 1292
Chapter 4: Summary
Culture Conditions
Media Components
Macroelements
Microelements
Substitutions
Carbohydrates
Amino Acids
Vitamins
Polyols
Hormones
Coconut Water
Bleeding Sap of Birch Trees
Other Complex Organic Additives
Solidifying (Gel-forming) Agents and Alternative Supporting Media
Adsorbents
Applications of Orchid Tissue Culture
Commercialization
Conservation
Patents
Plant Improvement and Biotechnology
Cryopreservation
Physiological Studies
Negative Aspects of Micropropagation
References
Appendix 1: General Information on Supplies, Equipment, Terms, and Reagents
Appendix 2: Sources of Supplies and Equipment
Appendix 3: Some Sites of Interest on the World Wide Web
Appendix 4: Light
Appendix 5: Formulary
Appendix 6: Atomic Weights, Concentrations, Exponents, Greek and Roman Letters, Ions, Measurements, Molecular Weights, Prefixes, Valences, Units, and Solutions
Appendix 7: Additional Information
Appendix 8: Plant Preservative Mixture
Appendix 9: Media
Appendix 10: ASCII Codes
Glossary
Index