Microscale General Chemistry Laboratory: With Selected Macroscale Experiments, 2nd Edition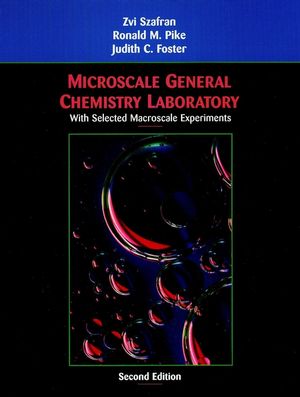 Microscale General Chemistry Laboratory: With Selected Macroscale Experiments, 2nd Edition
ISBN: 978-0-470-47321-4
Oct 2008
528 pages
Description
In the past two decades, microscale techniques have soared in popularity because these techniques minimize exposure to potentially dangerous chemicals in the lab, drastically cut the amount of chemical waste, lower costs, and reduce risks of chemical fires and explosions. The result is a safer and healthier laboratory environment.
Now, with Microscale General Chemistry Laboratory with Selected Macroscale Experiments, Second Edition, you can bring these techniques into your own chemistry lab. Thoroughly revised with updated experiments, the new Second Edition continues to offer a large variety of well-designed, easy-to-follow experiments, as well as thorough background information and an outstanding selection of questions and problems.
Preface.

Safety in the Laboratory.

Numbers and Calculations.

Laboratory Glassware and Experimental Techniques.

Basic Concepts of Chemistry.

Spectroscopy.

Solution Chemistry.

Physical Chemistry.

Inorganic Chemistry.

Inorganic Qualitative Analysis.

Organic Chemistry.

Appendix A: Safety Data for Common Solvents.

Appendix B: List of Common Acids and Bases.

Appendix C: Table of Physical and Chemical Constants.

Appendix D: Table of Common Units and Conversion Factors.

Appendix E: Standard Reduction Potentials, E°, Volts.

Appendix F: Acid(K_a) and Base (K_b) Dissociation Constants.

Appendix G: Solubility Product Constants at 25°C.

Appendix H: General Solubility Rules for Ionic Compounds in Water.

Appendix I: pH Ranges of Common Acid and Base Indicators.

Glossary.
New experiments, which replace outdated experiments
A new and improved layout, with bulleted, easy-to-read experiment procedures
Now includes a periodic table
The safety chapter now includes a safety quiz
New questions that require more research by the student
Introduces new experiments designed to reduce exposure to toxic materials, lab costs and environmental pollution.
Covers basic chemical concepts as well as spectroscopy, physical, and inorganic chemistry.
Presents several viable macroscale versions of experiments.
Includes a glossary of terms as well as appendices of scientific tables and information.