Microscale Organic Laboratory: with Multistep and Multiscale Syntheses, 4th Edition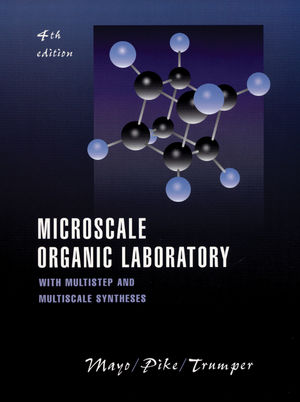 Microscale Organic Laboratory: with Multistep and Multiscale Syntheses, 4th Edition
ISBN: 978-0-471-32185-9
Jan 2000
688 pages
Product not available for purchase
Description
This is a laboratory text for the mainstream organic chemistry course taught at both two and four year schools, featuring both microscale experiments and options for scaling up appropriate experiments. It provides complete coverage of organic laboratory experiments and techniques with a strong emphasis on modern laboratory instrumentation, a sharp focus on safety in the lab, excellent pre- and post-lab exercises, and multi-step experiments. There is also another text available by the same authors titled Microscale Techniques for the Organic Lab, Second Edition which has more material on techniques and spectroscopy, but has no experiments.
Safety.

Introduction to Microscale Organic Laboratory Equipment and Techniques.

Determination of Physical Properties.

Microscale Laboratory Techniques.

Microscale Organic Laboratory Experiments.

Advanced Microscale Organic Laboratory Experiments.

Sequential Syntheses: The Transition from Macro to Micro.

Spectroscopic Identification of Organic Compounds.

Qualitative Identification of Organic Compounds.

Glossary.

Index.
The creation of the Wiley Website has allowed for the fourth edition to be shortened by nearly fifteen percent (100 pages). The fourth edition will be less intimidating and easier to understand for students. Without affecting the operational part of the text, certain background material, as well as more advanced discussions and compound data tables, are primarily discussed or shown on the website.
There will now be an online instructor's manual that will separate each experiment developed in the text and offer tips for avoiding potential trouble spots. The IM will be password protected.
Several chapters have been extensively revised (mostly the early and oldest chapters) and the Glossary has also been expanded.
Additional experiments not focused on preparative chemistry have been added to this edition.
The spectroscopy chapter has undergone significant changes. The more theoretical discussions are on the web, while a new section on the Applications of Mass Spectrometry to Organic Chemistry has been added.
The experimental procedure section is divided into the following four subsections allowing you to effortlessly organize your laboratory time: reagents and equipment, reaction conditions, isolations of product, and purification and characterization.
A prompt in the text indicates that the experimental apparatus involved in that stage of the experiments is shown in the margin of the text. Warning and Cautions are given in boxes and also indicated in the margins.
This lab manual allows the flexibility of creating one's own scaling sequence without being tied to prescribed set of quantities.