Microscale and Selected Macroscale Experiments for General and Advanced General Chemistry: An Innovation Approach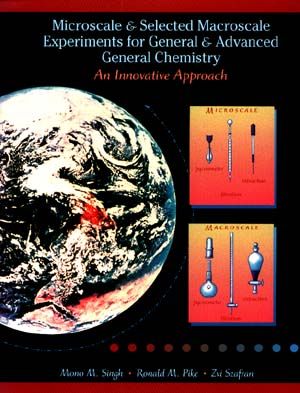 Microscale and Selected Macroscale Experiments for General and Advanced General Chemistry: An Innovation Approach
ISBN: 978-0-471-58596-1 February 1995 768 Pages
Description
This laboratory manual utilizes an investigative approach which departs from the traditional format of providing experiments with predetermined solutions. Includes both microscale and macroscale experiments which cover topics such as biochemistry, polymer chemistry and materials science.
Table of contents
Safety Precautions in the Laboratory.

Mathematical Methods and Manipulation of Data.

Macro and Microscale Laboratory Equipment and ExperimentalTechniques.

Report Writing and Maintaining a Laboratory Notebook.

Physical Methods in the Laboratory.

Analytical Chemistry.

Inorganic Chemistry.

Instrumental and Chromatographic Methods.

Organic Chemistry.

Materials and Industrial Chemistry.

Independent Studies, Computers, and Research in UndergraduateLaboratories.

Appendices.