Microsoft® Office 2003 Bible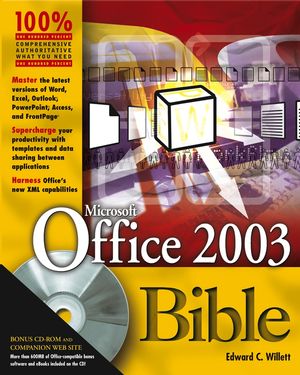 Microsoft® Office 2003 Bible
ISBN: 978-0-764-53949-7
Nov 2003
1176 pages
Product not available for purchase
Description
Targets how to effectively and efficiently use data, text, and graphics from one Office application in another Office application.
Features less emphasis on macros and programming and more focus on enhancements.
Improved content and topical selection compared to previous editions.
Preface.
Acknowledgments.
Part I: Getting Started.
Chapter 1: Welcome to Your New Office.
Chapter 2: Using Office's Menus and Toolbars.
Part II: Using Word.
Chapter 3: Creating and Working with Documents.
Chapter 4: Working with Text.
Chapter 5: Working with Tables.
Chapter 6: Forms, Fields, and Merging.
Chapter 7: Outlines, Tables of Contents, and Indexes.
Chapter 8: Styles and Templates.
Chapter 9: Getting Graphical.
Chapter 10: Working with Others on Word Documents.
Chapter 11: Using XML in Word.
Part III: Using Excel.
Chapter 12: Worksheets and Workbooks.
Chapter 13: Entering and Formatting Information.
Chapter 14: Charts.
Chapter 15: Formulas and Functions.
Chapter 16: Lists and Databases.
Chapter 17: Templates, Forms, and Graphics.
Chapter 18: PivotTable and PivotChart Reports.
Chapter 19: Using Excel to Analyze Data.
Chapter 20: Using XML in Excel.
Part IV: Using Outlook.
Chapter 21: Outlook Overview.
Chapter 22: Advanced Message Management.
Chapter 23: Outlook Security.
Chapter 24: Creating and Maintaining a Contact List.
Chapter 25: Managing Your Time with Calendar.
Part V: Using PowerPoint.
Chapter 26: Beginning a Presentation.
Chapter 27: Entering and Formatting Text.
Chapter 28: Using Templates and Wizards.
Chapter 29: Creating Charts and Tables.
Chapter 30: Adding Graphics and Special Effects.
Chapter 31: Finalizing Your Slide Show.
Chapter 32: Fine-Tuning Your Presentation.
Part VI: Using Access.
Chapter 33: Fundamentals of Access.
Chapter 34: Creating a Database.
Chapter 35: Working with Forms.
Chapter 36: Using Queries.
Chapter 37: Generating Reports.
Chapter 38: Access and XML.
Part VII: Office and the Web.
Chapter 39: Designing Web Sites with FrontPage.
Chapter 40: Managing Your Web Site with FrontPage.
Chapter 41: Creating Web Pages in Other Office Applications.
Part VIII: Collaborating in Office.
Chapter 42: Building Integrated Documents.
Chapter 43: Universal Drawing and Graphics Features.
Chapter 44: Using Microsoft Office Document Imaging and Scanning.
Chapter 45: Using Microsoft Office Picture Manager.
Chapter 46: Collaborating on a Network.
Chapter 47: Windows SharePoint Services with Office System.
Part IX: Customizing and Automating Office.
Chapter 48: Customizing Office Applications.
Chapter 49: Working with Macros.
Appendix A: What's on the CD-ROM.
Appendix B: Optimizing Your Office Installation.
Appendix C: International Support and Accessibility Features.
Appendix D: Finding Office Information on the Web.
Index.
| | | | | |
| --- | --- | --- | --- | --- |
| | CD | Missing TOC from CD,To download the table of contents for the CD that accompanies the Office 2003 Bible, please use the link below: Office 2003 Bible TOC | 12/1/03 | |