Microsoft® Office Access 2007: The L LineTM, The Express Line to Learning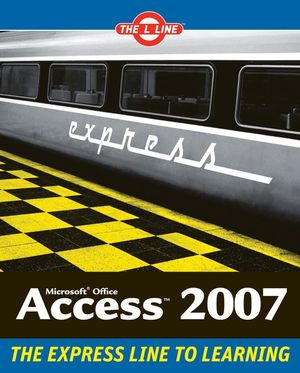 Microsoft® Office Access 2007: The L LineTM, The Express Line to Learning
ISBN: 978-0-470-10790-4
Apr 2007
544 pages
Product not available for purchase
Description
Get on the fast track to mastering Access

Want to find success in your profession? Master the tools that help you keep track of information, like Access 2007. Whether you're an office professional or entrepreneur, you can take charge of Access with this start-to-finish guide. Gain solid skills as you go from station to station in a series of clear-cut tutorials on designing databases, using forms, automating with macros, and more. Start your journey today on The L Line.

* Learn to make your applications easily accessible to users
*

Publish and update your data on the Web
*

Create tables to sift and sort your data
*

Save time by automatically transferring data with other applications

All aboard for valuable online extras

Visit The L Line Web site at www.wiley.com/go/thelline for valuable online supplementary materials:

* Test bank with challenging review questions
*

PowerPoint(r) slides with chapter outlines
*

Sample files to practice powerful Access techniques

Along The L Line

* Complete tutorial coveragewith step-by-step instruction
*

Ample illustrations and examples
*

Real-world applications and hints for avoiding pitfalls
*

Practice exams that let you evaluate your progress
About the Author.
Author's Acknowledgments.
Dedication.
Preface.
Chapter 1: Designing Databases.
Chapter 2: Creating and Using Tables — Level I.
Chapter 3: Creating and Using Tables — Level II.
Chapter 4: Asking the Database for Data — Level I.
Chapter 5: Asking the Database for Data — Level II.
Chapter 6: Using Forms to Enter Data.
Chapter 7: Presenting Data with Reports.
Chapter 8: Putting SharePoint Services to Work.
Chapter 9: Managing Relationships.
Chapter 10: Advanced Form Creation and Use.
Chapter 11: Automating Access with Macros.
Chapter 12: Making Access Templates Work for You.
Chapter 13: SQL: The Structured Query Language.
Chapter 14: Connecting with ODBC.
Chapter 15: Securing Access Databases.
Chapter 16: Maintaining Access Databases.
Chapter 17: Exploring Your Options.
Chapter 18: Connecting Access to the Web — Level I.
Chapter 19: Connecting Access to the Web — Level II.
Chapter 20: Introduction to PHP.
Appendix A: Resources.
Appendix B: Answer Key.
Index.
UNIQUE SERIES FEATURES!  Chapter objectives, pre-assessment exercises, tutorial coverage, terminology overviews, real-world case studies and applications, review questions, practice exams, and plentiful illustrations and examples.
THE EXPRESS LINE TO LEARNING – The L Line uses the universally recognized motif and symbols of a subway map, professional design and ample figures to guide readers through start to finish lessons on using Access.
VALUABLE ANCILLARY MATERIALS - Online components include test bank, Power Point slides with outlines, instructor's manual and syllabus.
GET A NEW JOB, IMPROVE SKILLS, LEARN NEW SKILLS! Topics are tied to emerging multidisciplinary topics that enable readers to master critical career-enhancing and marketable skills.
A START TO FINISH APPROACH: Guides readers interested in gaining professional-level database skills by evaluating current knowledge, learning skills taught in schools, and testing knowledge against real-world examples and challenges.
WRITTEN BY AN EXPERIENCED INSTRUCTOR: Kenneth Hess has ample experience using Access and has spent much of his time sharing this knowledge with his students. He is a trainer at New Horizons Learning Center in Tulsa, Oklahoma. He has designed training programs for Access and led Access training sessions for his clients. Recently, he was the instructor for Access training for four different local law firms.