Microsoft® Office XP Specialist Study Guide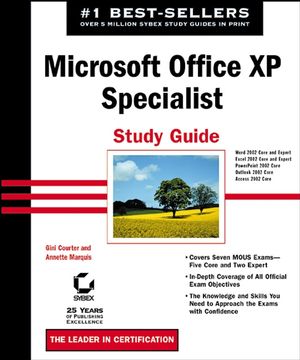 Microsoft® Office XP Specialist Study Guide
ISBN: 978-0-782-14113-9
Sep 2002
961 pages
Product not available for purchase
Description
Here's the book you need to prepare for the seven MOUS exams employers are demanding the most--Word 2002 Core, Word 2002 Expert, Excel 2002 Core, Excel 2002 Expert, PowerPoint 2002 Core, Outlook 2002 Core, and Access 2002 Core.
* In-depth coverage of official exam objectives
* Clear explanations of complex Office tasks
* Practical examples and detailed instructions
Authoritative coverage of all exam objectives, including:
Word Core and Expert
Inserting and Modifying Text
Creating and Modifying Paragraphs and Tables
Formatting and Managing Documents
Creating and Modifying Graphics
Using Mail Merge
Excel Core and Expert
Working with Cells and Cell Data
Managing and Modifying Workbooks
Creating and Revising Formulas
Importing and Exporting Data
Analyzing and Summarizing Data
PowerPoint Core
Creating and Modifying a Presentation
Inserting and Modifying Text and Visual Elements
Working with Data from Other Sources
Managing and Delivering Presentations
Workgroup Collaboration
Access Core
Creating and Using Databases and Tables
Creating and Modifying Queries
Creating and Modifying Forms
Defining Relationships
Producing Reports
Outlook Core
Creating and Viewing Messages
Scheduling
Managing Messages
Creating and Managing Contacts, Tasks, and Notes
Introduction.
Part I: Microsoft Word 2002 Core Exam.
Chapter 1: Creating Basic Documents.
Chapter 2: Working with Documents.
Chapter 3: Creating and Using Graphics.
Chapter 4: Collaborating in a Workgroup.
Part II: Microsoft Word 2002 Expert Exam.
Chapter 5: Advanced Document Formatting.
Chapter 6: Customizing Tables and Graphics.
Chapter 7: Customizing Word with Macros and Toolbars.
Chapter 8: Taking Collaboration to Another Level.
Chapter 9: Merging to Create Letters and Labels.
Part III: Microsoft Excel 2002 Core Exam.
Chapter 10: Creating Worksheets and Workbooks.
Chapter 11: Formatting and Printing Worksheets.
Chapter 12: Enhancing and Revising Workbooks.
Chapter 13: Creating Charts and Graphics.
Chapter 14: Collaborating in Excel.
Part IV: Microsoft Excel 2002 Expert Exam.
Chapter 15: Managing Workbooks and Data.
Chapter 16: Checking for Errors.
Chapter 17: Automating and Customizing Excel.
Chapter 18: Making Excel Even Easier.
Chapter 19: Summarizing Data.
Chapter 20: Analyzing Data.
Chapter 21: Sharing Excel Data with Others.
Part V: Microsoft PowerPoint 2002 Core Exam.
Chapter 22: Getting Started with PowerPoint.
Chapter 23: Adding Color and Graphics to Presentations.
Chapter 24: Producing Exciting Presentations.
Chapter 25: Preparing and Delivering the Final Product.
Part VI: Microsoft Access 2002 Core Exam.
Chapter 26: Creating an Access Database.
Chapter 27: Building Tables and Queries.
Chapter 28: Organizing Access Data.
Chapter 29: Defining Relationships.
Chapter 30: Reporting and Exchanging Data.
Part VII: Microsoft Outlook 2002 Core Exam.
Chapter 31: Composing and Viewing Messages with Outlook.
Chapter 32: Scheduling with Outlook's Calendar.
Chapter 33: Managing Messages and Contacts in Outlook.
Chapter 34: Tracking Tasks and Keeping Notes.
Index.
| Chapter | Page | Details | Date | Print Run |
| --- | --- | --- | --- | --- |
| | 21 | Exercise 1.4, #2,Exercise 1.4, #2 reads: 2. Right-click Grammar and choose Grammar from shortcut menu. Should read 2. Right-click Grammer and choose Grammar from shortcut menu. | | |
| | 53 | Step number 2 of exercise 2.1,Refers to the Print Layout View button and has a graphic of the button. This graphic is incorrect. The picture shown is actually the NORMAL VIEW button...similar but NOT the same as the PRINT LAYOUT VIEW button. | | |
| | 391 | First paragraph after Figure 13.1,First paragraph after Figure 13.1, change MOUS exam to Microsoft Office Specialist exam. | | |
| | 393 | Exercise 13.1, number 5 (b),Exercise 13.1, number 5 (b): On the Legend tab, turn off the Show Labels check box. Should this be: On the Legend tab, turn off the Show Legend check box? | | |