Microsoft® Office Word 2003 Core Skills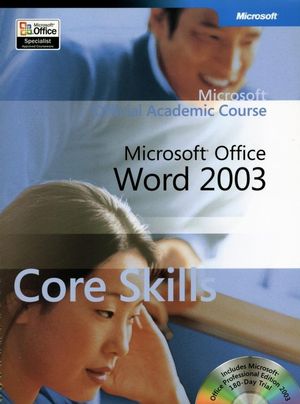 Microsoft® Office Word 2003 Core Skills
ISBN: 978-0-470-06623-2
Aug 2004
366 pages
Product not available for purchase
Description
Easy to follow step-by-step lessons enable students to quickly and efficiently learn the features of Microsoft Word 2003 and how to use them at school, at home, and in the workplace. This Microsoft Official Academic Course offers friendly, straightforward instruction with a focus on real-world business scenarios. Included with the book is a 180-day trial version of Microsoft Office Professional 2003 and dynamic interactive tutorials from the Microsoft eLearning Library. Skills covered in the book correspond to the objectives tested on the Microsoft Office Specialist Word Core examination. A complete instructor support program is available with the text.
Course Overview.
Conventions And Features Used in this Book.
Using the CD-ROMs.
MOS Objectives.
Taking a Microsoft Office Specialist Certification Test.
Microsoft e-Learning Library.
Lesson 1 Getting Started with Word.

Lesson 2 Editing a Document.

Lesson 3 Using Templates and Wizards.

Lesson 4 Formatting Text.

Lesson 5 Changing the Layout of a Document.

Lesson 6 Using Automated Formatting.

Lesson 7 Creating Content and Editing Text.

Lesson 8 Working Collaboratively.

Lesson 9 Working with Graphics.

Lesson 10 Working with Columns.

Lesson 11 Working with Tables.

Lesson 12 Word and the Web.
Glossary.
Index.
A complimentary copy of Microsoft Office Professional 2003-180 day trial, good for an entire semester, is included with each textbook.

Interactive Simulations from the Microsoft eLearning Library augment each lesson in the text. Icons in the textbook let the students know when a procedure is covered in an e-training on the Student CD.

Comprehensive instructor support materials save you time without sacrificing a quality classroom experience. You'll find the Brownstone test bank, Microsoft PowerPoint slides, and teaching tips and suggestions on the instructor CD and available from the Microsoft Learning Online Instructor Resource Center.

Step by Step methodology guides students through the basics and reinforces acquired skills as they progress through each unit. Cleary stated learning objectives, challenging task-oriented procedures and numerous real-world business scenarios help students understand how to use the technology in school, at home and on the job.
Textbook –
A complimentary 180 day trial copy of Office 2003 with the book.  Only book on the market that comes with 6 months use of Office for free.
Microsoft e-Learning Library (MELL) an interactive training tutorial.
Step by Step methodology in a task based approach.  Focuses on how to get things done.
Learning objectives for each chapter correlate to certification exam objectives. 
Exam Objectives are identified throughout the book.  Only book on market to do this.
Hands on exercises reinforce skills.
Chapter summaries.
Chapter review questions.
Instructor Support– 
PowerPoint Slides with annotated instructor notes
Test bank and additional questions in ExamView and Word
Sample Syllabi
Lesson Plans
Additional test questions
Additional activities and Exercises