Microsoft Access Data Analysis: Unleashing the Analytical Power of Access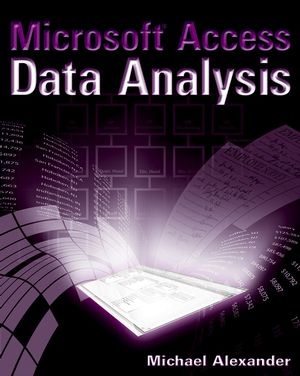 Microsoft Access Data Analysis: Unleashing the Analytical Power of Access
ISBN: 978-0-764-59978-1
Jan 2006
552 pages
Product not available for purchase
Description
Go beyond Excel(r) with Access's more powerful analysis capabilities
Get better visibility into your data with custom views
Scale up your data pool without limitation
Master the four fundamentals of data analysis
Discover shortcuts with the helpful Input Mask Wizard
Integrate your data with the web and enterprise data sources
Avoid the common pitfalls of data crunching
Harness VBA to improve data analysis
Leverage information from the field with real-world scenarios
Companion web site
See examples from this book firsthand, in our companion web site at www.wiley.com/go/accessdataanalysis. The site also includes templates and tools to get you started.
Acknowledgments.
Introduction.
Part One: Fundamentals of Data Analysis in Access.
Chapter 1: Access Basics.
Chapter 2: Beyond Select Queries.
Part Two: Basic Analysis Techniques.
Chapter 3: Transforming Your Data with Access.
Chapter 4: Working with Calculations and Dates.
Chapter 5: Performing Conditional Analysis.
Part Three: Advanced Analysis Techniques.
Chapter 6: Working with Subqueries and Domain Aggregate Functions.
Chapter 7: Running Descriptive Statistics in Access.
Chapter 8: Analyzing Data with Pivot Tables and Pivot Charts.
Part Four: Automating Data Analysis.
Chapter 9: Scheduling and Running Batch Analysis.
Chapter 10: Leveraging VBA to Enhance Data Analysis.
Chapter 11: Reporting Your Results Using Excel Automation.
Chapter 12: Query Performance, Database Corruption, and Other Final Thoughts.
Appendix A: Data Analyst's Function Reference.
Appendix B: Access VBA Fundamentals.
Appendix C: Data Analyst's Error Reference.
Index.