Microsoft Excel and Access Integration: With Microsoft Office 2007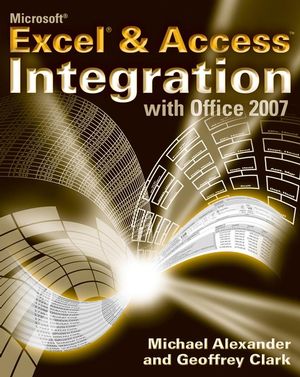 Description
Although many people rarely go from Excel into Access or vice versa, you should know that Microsoft actually designed these applications to work together. In this book, you'll discover how Access benefits from Excel's flexible presentation layer and versatile analysis capabilities, while Access's relational database structure and robust querying tools enhance Excel. Once you learn to make the two work together, you'll find that your team's productivity is the real winner.
Acknowledgements.
Introduction.
1. Getting Excel Data into Access.
2. Analyzing Excel Data with Access Queries.
3. Sprucing Up Excel Data with Access Reports.
4. Using Pivot Tables and Pivot Charts in Access.
5. Getting Access Data into Excel.
6. Leveraging Macros in Excel and Access.
7. VBA Fundamentals.
8. Using VBA to Move Data Between Excel and Access.
9. Exploring Excel and Access Automation.
10. Integrating Excel and Access with XML.
11. Integrating with Office Applications.
Index.
After reading this book, students will be able to:
Easily move data between Excel and Access
Store Excel data in a structured relational database
Use Excel functions in Access
Use Excel pivottables with Access Data
Report Access Data using Excel's presentation layer
Retrieve Data using ADO and SQL
Automate redundant processes using VBA to save time and increase productivity
Integrate Excel and Access data into other Office applications