Microsoft Exchange Server 2003 24seven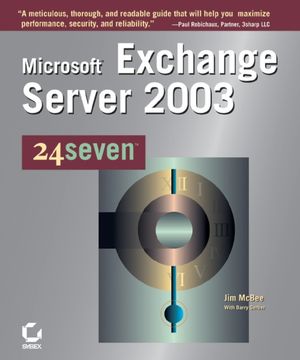 Microsoft Exchange Server 2003 24seven
ISBN: 978-0-782-14250-1
Jun 2004
928 pages
Product not available for purchase
Description
Advanced Coverage for Experienced Exchange Administrators
Microsoft Exchange Server 2003 24seven doesn't try to take you back to square one. Instead, it builds on the knowledge you've already earned. Expert Jim McBee with assistance from Barry Gerber delivers targeted instruction and inside tips that will help you follow the best practices established by successful Exchange organizations across a wide range of industries. This is also a great way to make a smooth transition to the latest release of Exchange Server.
Coverage includes:
Getting your Exchange installation right the first time
Managing interactions with Active Directory
Understanding Exchange data storage
Preventing and recovering from disasters
Administering daily operations
Customizing Exchange
Optimizing performance
Achieving higher availability
Isolating and solving common Exchange problems
Troubleshooting SMTP and DNS problems
Improving security against viruses and worms
Securing clients
Deploying and customizing Outlook web access
Supporting mobile clients
Introduction.
Part 1: Building a Foundation.
Chapter 1: Introducing Exchange 2003 and Exchange Administration.
Chapter 2: Windows Dependencies and Platform.
Chapter 3: Active Directory and Exchange 2003.
Chapter 4: Understanding Exchange 2003 Data Storage.
Chapter 5: Best Practices and Disaster Prevention.
Part 2: Operations.
Chapter 6: Daily and Long-Term Operations.
Chapter 7: Tweaking Operations.
Chapter 8: Keeping an Eye on Exchange 2003 Usage.
Chapter 9: Improving Performance.
Chapter 10: Recovering from Disasters.
Chapter 11: Clustering and Other Stories of High Availability.
Chapter 12: Public Folders.
Chapter 13: Server Troubleshooting.
Part 3: Connectivity.
Chapter 14: SMTP and Message Routing.
Chapter 15: Connectivity Within Your Organization.
Chapter 16: Internet Connectivity.
Part 4: Exchange 2003 Security Issues.
Chapter 17: Securing Exchange Server 2003.
Chapter 18: Securing Message Content.
Chapter 19: Exchange and Firewalls.
Part 5: Exchange Clients.
Chapter 20: Supporting MAPI Clients.
Chapter 21: Deploying Outlook Web Access.
Chapter 22: Going Wireless¿Outlook Mobile Access.
Index.
Web Chapter: Supporting POP3 and IMAP4 Clients
The file is in PDF format, which requires Adobe Reader.
Download
Chapter
Page
Details
Date
Print Run
Combined Errata


Page 574

The section Resolving Inbound SMTP Addresses on p. 574 is out-of-date. For the most up-to-date information on resolving SMTP addresses with Exchange 2003, see Knowledge Base article 828770.




---