Microsoft Exchange Server 2007 Infrastructure Design: A Service-Oriented Approach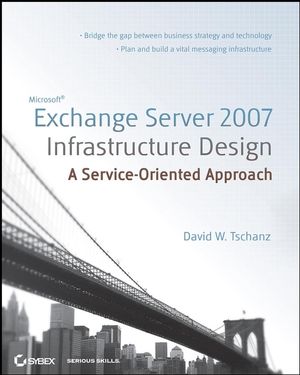 Microsoft Exchange Server 2007 Infrastructure Design: A Service-Oriented Approach
ISBN: 978-0-470-38215-8
Jul 2008
426 pages
Product not available for purchase
Description
As a systems administrator, you're expected to respond to the technical requirements of your organization while trying to fit them into its overall business goals. Few IT professionals have the combination of skills needed to pull it off. This unique book bridges that gap. It takes you beyond the routine administration tasks and teaches you how to plan and launch an Exchange Server 2007 enterprise solution that fully integrates the needs of the IT staff, end users, and business managers alike.
Introduction.
Chapter 1: Mastering the Business-Oriented Approach.
Chapter 2: Determining Business Requirements.
Chapter 3: Planning the Exchange Infrastructure.
Chapter 4: Applying Planning Principles to Exchange Server 2007.
Chapter 5: Planning Server Roles.
Chapter 6: Building the Business Case.
Chapter 7: Developing a Change Management Program.
Chapter 8: Managing User Expectations.
Chapter 9: Setting Up a Change Request Process.
Chapter 10: Deploying Exchange Server 2007.
Chapter 11: Tweaking the Infrastructure.
Chapter 12: So, You Want to Be a Consultant?
Appendix A: Measuring Team Effectiveness.
Appendix B: Sample Business Case Proposal.
Appendix C: Change Request Form.
Appendix D: Operations Checklists.
Appendix E: Lessons Learned Meeting Agenda.
Index.