Microsoft Expression Web For Dummies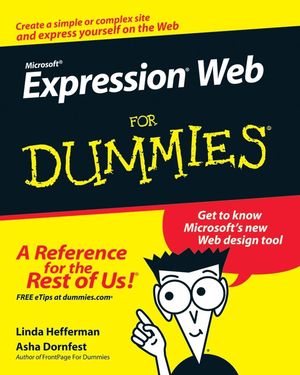 Microsoft Expression Web For Dummies
ISBN: 978-1-118-05159-7
Feb 2011
408 pages
Description
Expression Web is Microsoft's newest tool for creating and maintaining dynamic Web sites. This FrontPage replacement offers all the simple "what-you-see-is-what-you-get" tools for creating a Web site along with some pumped up new features for working with Cascading Style Sheets and other design options. Microsoft Expression Web For Dummies arrives in time for early adopters to get a feel for how to build an attractive Web site. Author Linda Hefferman teams up with longtime FrontPage For Dummies author Asha Dornfest to show the easy way for first-time Web designers, FrontPage vets, or users of other Web design tools how to get results from Expression Web.
Introduction.
Part I: Getting Started with Expression Web.
Chapter 1: Creating a Web Site with Expression Web.
Chapter 2: Working with Web Pages.
Part II: Coaxing Content onto the Page.
Chapter 3: Just the Text, Ma'am.
Chapter 4: Getting Around with Hyperlinks.
Chapter 5: Graphically Speaking.
Chapter 6: Forms for Any Purpose.
Part III: Great Design Doesn't Have to Be Difficult.
Chapter 7: Using Styles to Gussy Up Your Content.
Chapter 8: Putting Page Elements in Their Place.
Chapter 9: External Style Sheets and CSS Code.
Chapter 10: Tables for Data (And Layout, If You Must).
Chapter 11: Streamlining Sites with Dynamic Web Templates.
Part IV: Going Live and Keeping House.
Chapter 12: Making Your Worldwide Debut.
Chapter 13: Web Site Management.
Chapter 14: Getting Cozy with Code.
Part V: The Part of Tens.
Chapter 15: Ten Cool Gizmos for Your Web Site.
Chapter 16: Ten Essential Resources for Web Designers.
Bonus Online Material.
Chapter 17: Ten Ways to Make Your Web Site Better, Even Before You Begin.
Chapter 18: Ten Ways to Drag a Site Out of the Stone Age.
Index.
Bonus Chapter 17: Ten Ways to Make Your Web Site Better, Even Before You Begin
We have included two bonus chapters in pdf format. These bonus chapters require Adobe Reader to view, if you do not have Adobe Reader installed you can download it from Adobe's website.
Download
Bonus Chapter 18: Ten Ways to Drag a Site Out of the Stone Age

Download