Microsoft Flight Simulator 2002: Sybex Official Strategies & Secrets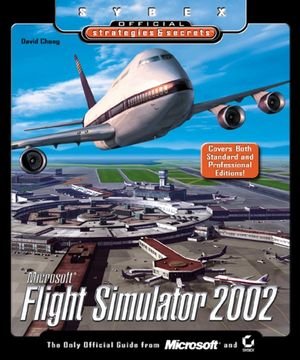 Microsoft Flight Simulator 2002: Sybex Official Strategies & Secrets
ISBN: 978-0-782-12943-4
Oct 2001
256 pages
Product not available for purchase
Description
Microsoft Flight Simulator 2002 offers an aviation experience that's as real as it gets. This official strategy guide will help you master the simulation's wide variety of aircraft, from the mighty Boeing 747-400 jumbo jet to the Cessna Caravan floatplane. Written with full developer support, this guide provides everything a virtual pilot needs to master the skies.
Inside you'll find:
* Strategies and tips to get you into the cockpit immediately, without study or review sessions
* Detailed information on every flyable craft in the simulation, including essential stats, takeoff checklists, and aircraft selection assistance
* Comprehensive coverage of the both Standard and Professional Editions, including the new interactive Air Traffic Control feature
* Exclusive coverage of the simulations' incredible multiplayer options, including virtual airlines
Getting Off the Ground.
1. Ground School.
2. Aircraft and Checklists.
3. Navigation.
4. Spreading Your Wings.
5. Creating a Flight Plan.
6. Expanding Existing Flights.
CONQUERING THE SKIES.
7. Going Solo.
9. Sharing the Sky.
Chapter
Page
Details
Date
Print Run
Combined Errata,

Page 209

Top half of page, Destination and Landing lines should be Luqa vs. Malta.

Page 210

Two instances of Malta should read 'Luqa

Page 212

1st Para., 1st word, Malta should be 'Luqa'

Page Back Cover

"land a jumbo jet using only instruments, just like the professionals".
We intended the "land a jumbo jet..." blurb to be a skill you would pick up by reading the book and applying the lessons and knowledge gained. Of particular importance for this skill is of course the Navigation chapter.