Microsoft FrontPage 2003: Savvy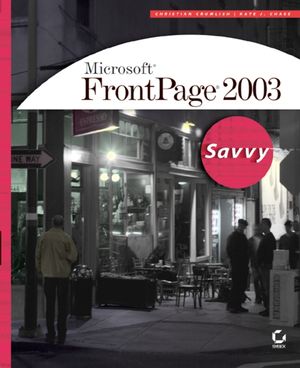 Microsoft FrontPage 2003: Savvy
ISBN: 978-0-782-15121-3
Feb 2006
629 pages
Product not available for purchase
Description
Savvy—n. Practical know-how.

FrontPage 2003 makes web development and maintenance easier than ever. At the same time, it holds more power than ever—meaning that even experienced users can use some help taking advantage of everything it has to offer.

Microsoft FrontPage 2003 Savvy provides that help. Using a variety of informational, corporate, and commercial sites as examples, this book walks you through the web development cycle. You'll learn how to define and meet specific site goals, make wise technical choices, overcome inevitable obstacles, and keep the site working and evolving in ways that makes all its stakeholders happy.

Tutorial-based instruction gets you up and running no matter what your experience. You'll also get focused coverage of new FrontPage features, including accessibility checking and improved CSS and Sharepoint support. Continue your progress with in-depth examinations of advanced topics plus hard-to-find workarounds and shortcuts. And beautifully realized examples, both online and in the book's full-color insert, demonstrate some of the things you can achieve with FrontPage 2003. Coverage includes:
Planning: workspace customization, site architecture, content acquisition, server setup, team-building.
Building: page layout, graphics placement, formatting text and links, navigation design and implementation.
Adding dynamic content: animation, ActiveX controls and other advanced objects, forms.
Integrating applications: database connectivity, scripting, dynamic page content, search engines.
Administration: back-end interface design, remote maintenance, setting up your own web server.
Introduction.
PART I: PLANNING YOUR PROJECT AND SETTING UP FRONTPAGE.
Chapter 1: Planning and Preparing for a Web Project.
Chapter 2: Setting Up Your Workspace.
Chapter 3: Web Pages Deconstructed.
Chapter 4: Defining Your Website.
Chapter 5: Gathering Content and Working with a Team.
PART II: BUILDING A WEB PAGE.
Chapter 6: Creating a New Web Page.
Chapter 7: Working Through Page Layout.
Chapter 8: Inserting and Formatting Text.
Chapter 9: Working with Graphics.
Chapter 10: Inserting and Maintaining Hyperlinks.
Chapter 11: Implementing Your Navigation Scheme.
Chapter 12: Working with Dynamic Web Templates.
PART III: ADDING DYNAMIC CONTENT.
Chapter 13: Adding Animation and Multimedia.
Chapter 14: Inserting ActiveX Controls and Other Advanced Objects.
Chapter 15: Building Forms.
PART IV: DEVELOPING WEB APPLICATIONS.
Chapter 16: An Overview of Database-Backed Sites.
Chapter 17: Working Directly with Markup and Scripts.
Chapter 18: Developing Data-Driven Websites.
Chapter 19: Adding Automatic Web Components.
Chapter 20: Promoting Community with Discussions.
PART V: SITE ADMINISTRATION FROM START TO FINISH.
Chapter 21: Setting Up the Back-End Interface.
Chapter 22: Enabling Content Management.
Chapter 23: Going Live.
Chapter 24: Maintaining and Administering a Site.
Appendix A: Installing a Web Server.
Appendix B: Online Resources.
Index.