Microsoft Office 2007 For Seniors For Dummies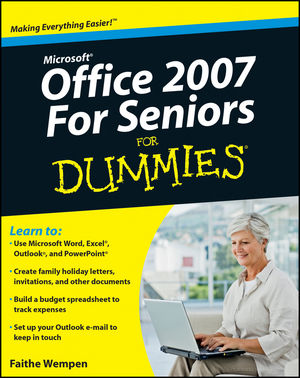 Microsoft Office 2007 For Seniors For Dummies
ISBN: 978-0-470-55000-7
Jun 2009
368 pages
Description
Seniors who are new to computers can learn Office applications quickly and easily
If you're over 50 and new to computers, everything about them can seem intimidating. The most common applications you'll want to use are part of the Microsoft Office suite - Word, Excel, PowerPoint, and Outlook. Microsoft Office 2007 For Seniors For Dummies shows you how to use each one in a straightforward, fun manner that takes all the apprehension away.
This plain-English guide shows you just what you need to know to write letters with Word, keep a budget with an Excel spreadsheet, create fun slideshows with PowerPoint, and set up an e-mail account using Outlook. Microsoft Office 2007 For Seniors For Dummies doesn't assume you were born knowing how to use a computer; it starts at the beginning and makes learning easy and quick.
Each chapter lists the tasks covered, with page references to help you locate what you need
Shows how to start each application and navigate the elements on the screen
Covers how to create documents in Word and provides templates for letters and faxes
Explains how to create spreadsheets and includes a grid for budgeting
Guides you through creating a PowerPoint presentation
Demonstrates how to set up an e-mail account with Outlook and communicate with others
Microsoft Office 2007 For Seniors For Dummies will have you using basic Office applications in no time, and boost your confidence too.
Introduction.
Part I: Getting Started with Office.
Chapter1: The Two-Dollar Tour.
Chapter 2: Exploring the Common Features of Office 2007.
Chapter 3: Opening, Saving, and Printing Files.
Part II: Word.
Chapter 4: Composing Your Thoughts in Word.
Chapter 5: Dressing Up Your Documents.
Chapter 6: Taking Word to the Next Level.
Part III: Excel.
Chapter 7: Creating Basic Spreadsheets in Excel.
Chapter 8: Doing the Math: Formulas and Functions.
Chapter 9: Creating Visual Interest with Formatting and Charts.
Chapter 10: Using Excel as a Database.
Part IV: Outlook.
Chapter 11: Managing E-Mail with Outlook.
Chapter 12: Managing the Details: Contacts, Notes, and Tasks.
Chapter 13: Your Busy Life: Using the Calendar.
Part V: PowerPoint.
Chapter 14: Getting Started with PowerPoint.
Chapter 15: Dressing Up Your Presentations.
Chapter 16: Adding Movement and Sound.
Chapter 17: Presenting the Show.
Appendix: Customizing Office Applications.
Index.