Microsoft Office Excel 2007: The L Line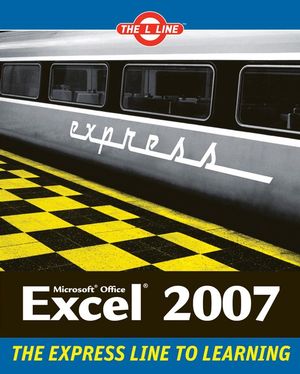 Description
Get on the fast track to mastering Excel
Want to find success in your profession or business? Master the timesaving tools you'll need in the real world, like Excel 2007. Whether you're a student, a professional, or an entrepreneur, you can learn Excel with this start-to-finish guide. Gain solid skills as you go from station to station in a series of clear-cut tutorials on Excel spreadsheet basics, integration with other applications, macro creation, and more. Start your journey today on The L Line.
Get the basics of the new user interface and how to create spreadsheets
Apply formulas, build charts, and explore pivot tables
Filter, sort, analyze, and validate your data
Customize Excel, create macros, and use add-ins
All aboard for valuable online extras
Visit the L Line Web site at www.wiley.com/go/thelline for valuable online supplementary materials:
Test bank with challenging review questions
PowerPoint(r) slides with chapter outlines
Free sample files
Along The L Line
Complete tutorial coverage with step-by-step instruction
Ample illustrations and examples
Real-world case studies, applications, and hints for avoiding pitfalls
Practice exams that let you evaluate your progress
Author's Acknowledgments.
Preface.
Chapter 1: Exploring Excel.
Chapter 2: Creating Your First Excel Worksheet.
Chapter 3: Fine-Tuning Your Worksheet.
Chapter 4: Understanding Excel Formulas.
Chapter 5: Charting: Basic Excel Chart Types and When to Use Them.
Chapter 6: Pivoting Data: Looking at Your Data in a Different Way.
Chapter 7: Adding Data from Other Sources.
Chapter 8: Designing Your Data for Viewing and Printing.
Chapter 9: Exporting Data to Other Applications.
Chapter 10: Sorting and Filtering Data.
Chapter 11: Ensuring Your Data Is Right.
Chapter 12: Analyzing Data with Excel.
Chapter 13: Customizing Excel.
Chapter 14: Extending Excel: Using Existing Add-Ins.
Chapter 15: Programming Excel: An Introduction to VBA and Macros.
Chapter 16: Building Your Own Excel Add-Ins.
Appendix A: Exam Answer Appendix.
Appendix B: Getting Help with Excel.
Index.
THE EXPRESS LINE TO LEARNING – The L Line uses the universally recognized motif and symbols of a subway map, professional design and ample figures to guide readers through start to finish lessons on using Excel.
VALUABLE ANCILLARY MATERIALS - Online components include test bank, Power Point slides with outlines, instructor's manual and syllabus.
GET A NEW JOB, IMPROVE SKILLS, LEARN NEW SKILLS! Topics are tied to emerging multidisciplinary topics that enable readers to master critical career-enhancing and marketable skills.
A START TO FINISH APPROACH – Guides readers interested in gaining professional-level Excel 2007 skills by evaluating current knowledge, learning skills taught in schools, and testing knowledge against real-world examples and challenges.
WRITTEN BY A PROFESSIONAL TRAINER – Kathy Jacobs' background allows her to create training materials that are reality-based, interesting, and which focus on the needs of the learner. Kathy is a regular presenter and team member at PowerPoint Live and she is a presenter at Four Parks Technology eXpo, the Phoenix PC User's Group, and several more user groups.