Microsoft Office FrontPage 2003 Bible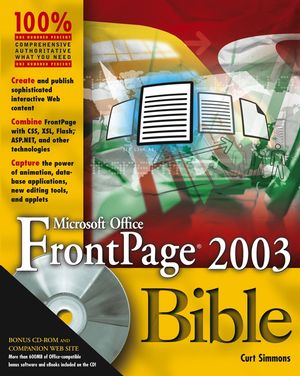 Microsoft Office FrontPage 2003 Bible
ISBN: 978-0-764-53974-9
Oct 2003
864 pages
Product not available for purchase
Description
If FrontPage 2003 can do it, you can do it too...

Whatever your level of expertise, this comprehensive guide to FrontPage 2003 helps you create and manage Web sites that support your objectives. If you're building your first site, the step-by-step tutorials will get you going quickly and easily. If you belong to a corporate project team, you'll find help coordinating the work of editors, designers, and programmers. And if you're already a Web professional, here's what you need to expand and refine your technical know-how.

Inside, you'll find complete coverage of FrontPage 2003
Learn how to add dynamic content with Photo Gallery or automatic content from Microsoft MSN and Expedia
Design pages using tables, layers, shared borders, and frames
Integrate FrontPage with Flash™ and other non-Microsoft technologies
Set up, design, and manage an intranet with SharePoint™ Team Services
Combine FrontPage with other Office applications like Word, Excel, and PowerPoint®
Discover how to go ""under the hood"" and revise HTML coding
Learn various ways to build navigational elements and see how FrontPage supports Cascading Style Sheets (CSS)
Embed video and sound files, incorporate animation, and use plug-ins and Java™ applets in your site
Bonus CD-ROM and companion Web site!
Exclusive Office 2003 Super Bible eBook, with more than 500 pages of information about how Microsoft Office components work together
Bonus shareware, freeware, trial, demo, and evaluation programs that work with or enhance Microsoft Office
Searchable eBook version of FrontPage 2003 Bible
An easy-to-use interface that allows you to browse and install everything on the CD
Preface.
Acknowledgments.
Part I: FrontPage Essentials.
Chapter 1: Getting to Know FrontPage.
Chapter 2: Working with FrontPage Web Sites.
Chapter 3: Publishing and Maintaining Web Sites.
Chapter 4: Integrating FrontPage with Office Applications.
Part II: Designing Web Pages.
Chapter 5: Page and Text Formatting.
Chapter 6: Working with Layout: Tables and Layers.
Chapter 7: Designing Pages with Shared Borders and Frames.
Chapter 8: Editing HTML.
Part III: Organizing FrontPage Webs.
Chapter 9: Building Navigational Elements.
Chapter 10: Using FrontPage Themes.
Chapter 11: Working with Styles and Style Sheets.
Part IV: Working with Pictures, Animation, and Multimedia.
Chapter 12: Using Pictures.
Chapter 13: Using Animation Effects.
Chapter 14: Adding FrontPage Web Components.
Chapter 15: Embedding Components: Plug-Ins, ActiveX, and Java Applets.
Part V: Activating Web Pages.
Chapter 16: Designing Forms.
Chapter 17: Activating Forms.
Chapter 18: Client-Side Scripting: JavaScript and DHTML.
Chapter 19: Server-Side Programming: CGI and ASP.
Part VI: Data-Driven Web Sites.
Chapter 20: Working with Databases in FrontPage.
Chapter 21: Building a FrontPage Database Application.
Part VII: Advanced Topics.
Chapter 22: Developing Custom FrontPage Solutions.
Chapter 23: Web Server Administration.
Chapter 24: SharePoint Team Services Sites.
Chapter 25: Introduction to Microsoft InfoPath 2003.
Appendix A: What's New in FrontPage 2003?
Appendix B: Index of FrontPage Templates.
Appendix C: Best FrontPage Add-Ins and Resources.
Appendix D: What's on the CD-ROM.
End-User License Agreement.
Index.