Microsoft Office Publisher 2007 For Dummies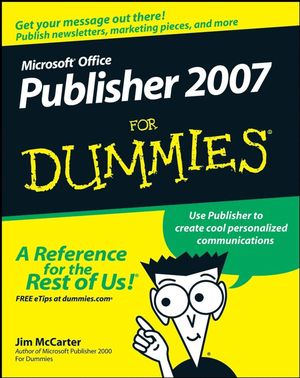 Microsoft Office Publisher 2007 For Dummies
ISBN: 978-1-118-05208-2
Jan 2011
384 pages
Description
This is supposed to be the age of instant and constant communication, right? And if you have a business, belong to an organization, or have a cause you want to promote, a great-looking flyer or brochure can say a lot.

If you have Microsoft Office Professional, Small Business, or Ultimate on your PC, you already have a great communication tool hidden inside—Publisher 2007. Use it to promote your organization with newsletters, cards, and brochures. This book gets you started with Publisher basics so you can start communicating with your public.

Chances are you're not planning to become a Publisher guru; you just want to use Publisher to get some things done. Then Microsoft Office Publisher 2007 For Dummies is just the book for you! It has just what you need to know to
Understand design basics and plan a page
Set up a flyer or publication and place text and pictures where they work best
Use various Publisher templates
Incorporate images and files from other programs
Build Web sites with Publisher
Prepare your creations for printing or posting online
Whether you're selling a product or service, getting the word out about a not-for-profit organization, or helping out your church, synagogue, or school, Microsoft Office Publisher 2007 For Dummies makes it easy.
Introduction.
Part I: Getting Acquainted with Publisher 2007.
Chapter 1: Own the Printing Press.
Chapter 2: Success by Design.
Chapter 3: Basic Training.
Part II: Mark This Page.
Chapter 4: Working with Pages.
Chapter 5: Objects and Frames.
Part III: 10,000 Words, One Maniac.
Chapter 6: Getting the Word.
Chapter 7: Editors Are Bought, Not Born.
Chapter 8: Vintage Type: The Corkscrew, Please.
Part IV: A Picture Is Worth $6.95.
Chapter 9: You Ought to Be in Pictures.
Chapter 10: Color by the Numbers.
Chapter 11: Grappling with Graphics Manager.
Part V: Proof Positive.
Chapter 12: Final Checks.
Chapter 13: Printing, Print Shops, and Paper.
Part VI: Publishing on the Internet.
Chapter 14: Weaving a Web Site.
Chapter 15: Getting Published (On the Internet).
Part VII: The Part of Tens.
Chapter 16: Ten Great Design Ideas.
Chapter 17: Ten Design Blunders.
Chapter 18: Not Quite Ten Things to Check before Printing.
Chapter 19: Ten Questions for Your Print Service.
Chapter 20: Ten Ways to Save on Printing Costs.
Index.