Microsoft Office v.X for Macs For Dummies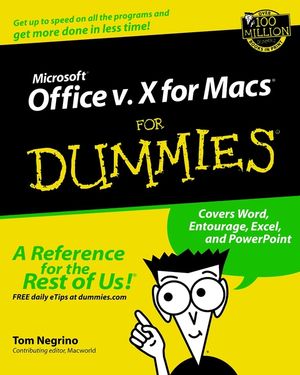 Microsoft Office v.X for Macs For Dummies
ISBN: 978-0-764-51638-2
Jan 2002
408 pages
Product not available for purchase
Description
The new version of Microsoft Office for Macs brings many features from Office XP to the Macintosh platform -- and is the first Office upgrade to take full advantage of the souped-up multimedia capabilities and new user interface of Mac OS X. This friendly guide gets users up to speed fast on all of the programs in the suite -- Word ,Entourage, Excel ,and Power Point-and provides ample coverage of collaboration tools and the many enhancements.
Introduction.

PART I: Getting Started with Microsoft Office v. X.

Chapter 1: Why Office v. X?

Chapter 2: Running Office v. X.

Chapter 3: Help Is Everywhere You Turn.

PART II: Using Word X.

Chapter 4: Getting Friendly with Word X.

Chapter 5: Working with Words.

Chapter 6: Looks Matter: A Guide to Attractive Formatting.

Chapter 7: Creating Reports and Newsletters.

PART III: Organizing Your E-Mail and Time with Entourage X.

Chapter 8: E-Mail Basics: Reading, Writing, Replying.

Chapter 9: Taming Your E-Mail with Folders and Rules.

Chapter 10: Managing Your Contacts, Calendar, and Tasks.

PART IV: Crunching Your Numbers with Excel X.

Chapter 11: Spreadsheets 101: Behind the Rows and Columns.

Chapter 12: Formulas Work -
So That You Don't Have To!

Chapter 13: Working with Worksheets and Workbooks.

Chapter 14: Turning Numbers into Pictures with Charts.

PART V: Putting on a Show with PowerPoint X.

Chapter 15: Creating PowerPoint Slide Shows.

Chapter 16: Spiffing Up Your Presentations.

Chapter 17: Doing the Presentation.

PART VI: Working Well with Others.

Chapter 18: Using the Office v. X Collaboration Features.

Chapter 19: Sharing Information Over the Internet.

PART VII: The Part of Tens.

Chapter 20: Ten (Or So) Ways to Customize Office v. X.

Chapter 21: Ten Tips to Tune Up Your Toolbars.

Chapter 22: Ten Quick Time-Saving Tips.

Index.