Microsoft Outlook 2007 Bible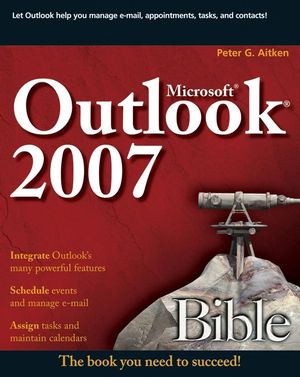 Microsoft Outlook 2007 Bible
ISBN: 978-0-470-16824-0
Apr 2007
600 pages
Product not available for purchase
Description
Discover all the ways Outlook can make your life with this book. In the handy package that is Outlook, you get the tools you use constantly: e-mail, a calendar and appointment book, a contacts list, a to-do list, and more. Learn to use them together, and you have a sophisticated system for managing your day. This complete A-to-Z guide can teach you, whether you're just venturing into Outlook or are ready to customize and tweak it with VBA programming.
Introduction.
1. Getting Started with Outlook.
2. Installing and Using Outlook.
3. Email Accounts.
4. Fundamentals of Email.
5. Formatting Your Email Messages.
6. Working with Advanced Email Message Components and Editing.
7. Understanding Email Options.
8. Dealing with Junk Email.
9. Processing Messages with Rules.
10. Managing Your Contacts.
11. Working with the Calendar.
12. Working with Schedules and Meetings.
13. Working with Outlook Notes.
14. Using the Journal.
15. Keeping Track of Tasks.
16. Making Use of RSS Feeds.
17. Making the Most of Outlook Categories.
18. Working with Outlook Folders and Categories.
19. Customizing Outlook to Suit the Way You Work.
20. Managing Security Issues.
21. Using Outlook with Other Applications.
22. Writing Macros and Visual Basic Code in Outlook.
23. Getting Started with VBA.
24. Understanding the Outlook Object Model.
25. Programming Outlook with VBA: Some Examples.
26. Working with Outlook Forms.
27. Going Beyond Basic Forms.
28. Using Outlook with Exchange Server.
29. Using Outlook with SharePoint Services.