Microsoft Project 2000 For Dummies Quick Reference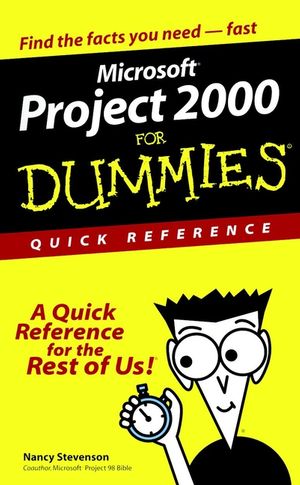 Microsoft Project 2000 For Dummies Quick Reference
ISBN: 978-0-764-50717-5
May 2000
224 pages
Description
This easy-to-read reference helps you harness the power of the project management capabilities of Microsoft Project 2000. No-fluff instructions and tips show you to create a plan, build tasks, and outline stages in your plan. Discover to use the vast menu of features in Microsoft Project 2000: scheduling, reporting, resource allocation, workflow management, and project tracking. You can even plan your deadlines depending on constraining events or costs. With this handy guide at your side, you can come in under budget and in plenty of time.
The Big Picture: Microsoft Project 2000.

PART I: Creating Your Project Plan.

PART II: Building Tasks.

PART III: Outlining.

PART IV: Setting Timing with Dependencies, Constraints, and Deadlines.

PART V: Defining Resources.

PART VI: Associating Resources with Costs.

PART VII: Making Resource Assignments.

PART VIII: Refining and Finalizing Your Project Plan.

PART IX: Formatting Your Project.

PART X: Saving Your Baseline and Protecting Your Project.

PART XI: Monitoring Project Activity.

PART XII: Reporting and Printing.

PART XIII: Working Online with Microsoft Project.

Appendix: Installation Requirements for Project Central.

Glossary: Tech Talk.

Index.

Book Registration Information.