Microsoft Publisher 2000 For Dummies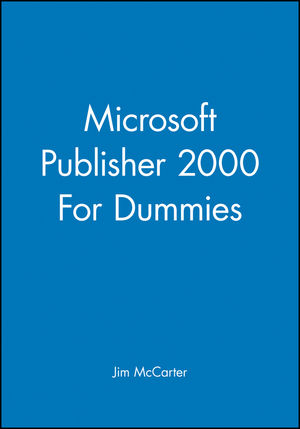 Microsoft Publisher 2000 For Dummies
ISBN: 978-0-764-50525-6 May 1999 408 Pages
Description
Create Newsletters, Brochures, Web Pages, and More!

Creating high-quality publications right on your own PC is easier than you think-with a little help from Microsoft Publisher 2000 For Dummies. Straightforward explanations, illustrations, and tips guide you through the ins and outs of desktop publishing. You'll discover how scanned images, clip-art graphics, and distinctive typefaces can make your print documents and Web pages come alive in no time-without spending a lot of money.

Inside, find helpful advice on how to:
Choose the perfect fonts and design elements for any project
Design custom layouts for newsletters, brochures, stationary, and much more
Drop in images from Publisher's clip-art gallery-or use your own pictures
Turn any document into a Web page in a few simple steps
Use hyperlinks, textures, and colors to build better Web sites
Create and maintain a consistent image for your small business
Unleash the time-saving capabilities of Publisher's powerful PageWizards
Get money-saving tips on service bureaus, paper options, and printing
Integrate Publisher with other Microsoft Office 2000 applications for even greater productivity
Introduction.
Part I: Getting Acquainted with Publisher 2000.
Chapter 1: Own the Printing Press.
Chapter 2: Success by Design.
Chapter 3: Basic Training.
Part II: Mark This Page.
Chapter 4: Working with Pages.
Chapter 5: Objects and Frames.
Part III: 10,000 Words, One Maniac.
Chapter 6: Getting the Word.
Chapter 7: Editors Are Bought, Not Born.
Chapter 8: Vintage Type: The Corkscrew, Please.
Part IV: A Picture Is Worth $3.95.
Chapter 9: You Ought to Be in Pictures.
Chapter 10: Color by the Numbers.
Chapter 11: Photo Finishing with PhotoDraw.
Part V: Proof Positive.
Chapter 12: Final Checks.
Chapter 13: Printing, Print Shops, and Paper.
Part VI: Publishing on the Internet.
Chapter 14: Weaving a Web Site.
Chapter 15: Getting Published (On the Internet).
Part VII: The Part of Tens.
Chapter 16: Ten Great Design Ideas.
Chapter 17: Ten Design Blunders.
Chapter 18: Ten Type Tips.
Chapter 19: Almost Ten Ways to Use Color.
Chapter 20: Not Quite Ten Things to Check before Printing.
Chapter 21: Ten Questions for Your Printing Service.
Chapter 22: Ten Ways to Save Money Printing.
Index.