Microsoft SQL Server 2005 For Dummies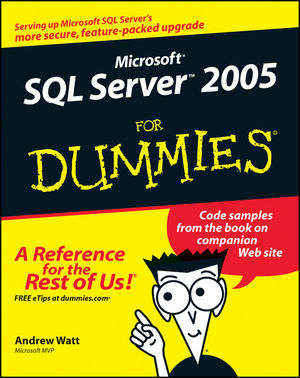 Description
Now updated to reflect the much-anticipated "Yukon" release of SQL Server, this friendly guide shows database developers and administrators as well as those who use database application how to get up to speed fast
Offers a gentle introduction to relational database design and shows how to build databases, create database applications, and maintain and optimize database performance
Covers the major new features of the "Yukon" release-including analysis services, reporting services, and notification services
Introduction.
Part I: SQL Server 2005: An Overview.
Chapter 1: Introducing SQL Server 2005.
Chapter 2: New Features in SQL Server 2005.
Chapter 3: Introducing and Configuring Management Studio.
Part II: Basic Operations.
Chapter 4: Creating Databases, Tables, and Relationships with T-SQL.
Chapter 5: Asking Questions and Getting Answers.
Chapter 6: Building a Simple Application.
Part III: Working with SQL Server.
Chapter 7: Working with XML.
Chapter 8: Using the Common Language Runtime.
Chapter 9: Using Stored Procedures.
Chapter 10: Error Handling in T-SQL.
Part IV: Protecting Your Data.
Chapter 11: Securing Your Data.
Chapter 12: Availability and Preventing Data Loss.
Chapter 13: Maintaining Integrity with Transactions.
Chapter 14: Maintaining Data Integrity with Constraints and Triggers.
Part V: Administering a SQL Server System.
Chapter 15: Configuring a SQL Server System.
Chapter 16: Scheduling SQL Server Agent Jobs.
Chapter 17: Sending Information Using Notification Services.
Chapter 18: Maintaining a SQL Server System.
Chapter 19: Working with Multiple Servers.
Part VI: Using SQL Server Business Intelligence (BI) Services.
Chapter 20: SQL Server Integration Services.
Chapter 21: Analysis Services.
Chapter 22: Building Business Reports with Reporting Services.
Part VII: The Part of Tens.
Chapter 23: Ten Sources of Information on SQL Server 2005.
Chapter 24: Products that Work with SQL Server 2005.
Index.