Microsoft SQL Server 2008 For Dummies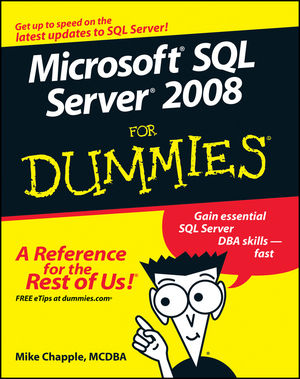 Microsoft SQL Server 2008 For Dummies
ISBN: 978-0-470-48665-8
Jan 2009
408 pages
Description
If you're a database administrator, you know Microsoft SQL Server 2008 is revolutionizing database development. Get up to speed on SQL Server 2008, impress your boss, and improve your company's data management — read Microsoft SQL Server 2008 For Dummies!

SQL Server 2008 lets you build powerful databases and create database queries that give your organization the information it needs to excel. Microsoft SQL Server 2008 For Dummies helps you build the skills you need to set up, administer, and troubleshoot SQL Server 2008. You'll be able to:
Develop and maintain a SQL Server system
Design databases with integrity and efficiency
Turn data into information with SQL Server Reporting Services
Organize query results, summarizing data with aggregate functions and formatting output
Import large quantities of data with SSIS
Keep your server running smoothly
Protect data from prying eyes
Develop and implement a disaster recovery plan
Improve performance with database snapshots
Automate SQL Server 2008 administration
Microsoft SQL Server 2008 For Dummies is a great first step toward becoming a SQL Server 2008 pro!
Introduction.
Part I: Welcome to SQL Server 2008.
Chapter 1: Introducing SQL Server 2008.
Chapter 2: Building Your SQL Server.
Chapter 3: Working with SQL Server Tools.
Part II: Building SQL Server 2008 Databases.
Chapter 4: Planning Your Database.
Chapter 5: Creating Databases and Tables.
Chapter 6: Imposing Constraints and Relationships.
Part III: Retrieving Data from Databases.
Chapter 7: Constructing Simple Database Queries.
Chapter 8: Joins and Other Advanced Queries.
Chapter 9: Turning Data into Information with SQL Server Reporting Services.
Part IV: Inserting and Manipulating Your Data.
Chapter 10: Inserting, Updating, and Deleting Data.
Chapter 11: Saving Time with Functions, Stored Procedures, and Triggers.
Part V: SQL Server Administration.
Chapter 12: Keeping Your SQL Server Running Smoothly.
Chapter 13: Automating SQL Server 2008 Administration.
Chapter 14: Troubleshooting SQL Server 2008 Problems.
Chapter 15: Replicating Data across Multiple Servers.
Part VI: Protecting Your Data.
Chapter 16: Protecting Your Data from Prying Eyes.
Chapter 17: Preserving the Integrity of Your Transactions.
Chapter 18: Preparing for Disaster.
Chapter 19: Staying Alive: High Availability in SQL Server 2008.
Chapter 20: Implementing Policy-Based Management with the Declarative Management Framework.
Part VII: The Part of Tens.
Chapter 21: Ten Ways to Keep Your SQL Server 2008 Databases Humming.
Chapter 22: Ten Database Design Tips.
Index.