Microsoft Train Simulator: Sybex Official Strategies & Secrets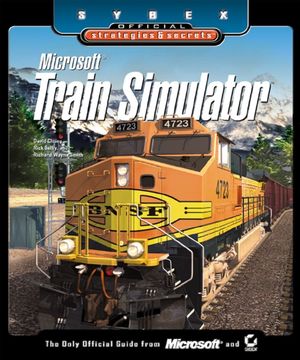 Microsoft Train Simulator: Sybex Official Strategies & Secrets
ISBN: 978-0-782-12910-6
Jul 2001
304 pages
Product not available for purchase
Description
Microsoft Train Simulator brings the excitement of some of the world's most famous trains to your home. Harness the engines' power as an engineer, using the fully functional gauges and working controls. Sit back and enjoy the ride as a passenger, taking in the scenery as you rumble through the realistic settings. Or take on the responsibility of a railroad designer, using Train Simulator's open architecture and tools to customize and extend the game.

Written with the full support of the game's developer, Microsoft Train Simulator: Sybex Official Strategies & Secrets gives you everything you'll need to stay on track.

Inside you'll find:
* Expert advice on operating everything from the Orient Express to The Flying Scotsman
* Essential strategies for handling the game's challenging operating strategies
* Hands-on tutorials covering Train Simulator's extensive track and activity building tools
Game Features.
At the Station.
Game Controls.
On the Rails.
Part I: Operating the Routes.
Chapter 1: Basic Train Operating Skills.
Chapter 2: Operating Amtrak's Northeast Corridor.
Chapter 3: Operating England's Settle-Carlisle Route.
Chapter 4: Operating the Burlington Northern Santa Fe's Marias Pass Route.
Chapter 5: Operating Japan's Hisatsu Line.
Chapter 6: Operating Japan's Tokyo-Hakone Railway.
Chapter 7: Operating Austria's Innsbruck-St. Anton Line.
Part II: Game Tools.
Chapter 8: The Activity Editor: Events.
Chapter 9: The Activity Editor: Services.
Chapter 10: The Route Editor.
Chapter 11: The Geometry Extractor.
Appendix.
Train Simulator Community.
Official Websites.
Unofficial Websites.
Chapter
Page
Details
Date
Print Run
Combined Errata


Page 262 - 287

CH 10 - Route Editor pp 262-287,
Reader's Issue:
When I go into Route Editor the image comes up fine (the area is totally flat, I assume because I am in the Illinois area), but when I bring up the Object Selector to start putting down track, buildings, etc, there is very little there.

Game Comment:
It appears that there may different "versions" of the software. There have been conversations on some of the forums regarding higher priced versions having less bugs. It is feasible that you may have received an evaluation copy that would have a little more "muscle" than the production version.


Microsoft Train Simulator known issues:

"http://support.microsoft.com/support/kb/articles/q299/7/61.ASP"


---