Microsoft Windows Server 2008: Implementation and Administration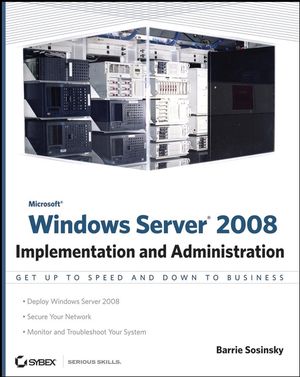 Microsoft Windows Server 2008: Implementation and Administration
ISBN: 978-0-470-17459-3
Feb 2008
356 pages
Product not available for purchase
Description
If you're preparing to move to Windows Server 2008, this book is for you. It bypasses common concepts you already know and concentrates on the essential information you need to migrate quickly and successfully. You'll get a thorough look at what's new in Windows Server 2008, including the redesigned architecture and improvements in features such as user services, graphics, virtualization, and the new TCP/IP protocol stack and boot environment. Covers everything from deployment to PowerShell to the latest security features, new performance monitoring, and remote access management.
Introduction.
Chapter 1: Windows Server 2008 Architecture.
Chapter 2: Deploying Windows Server 2008.
Chapter 3: Network Services.
Chapter 4: Active Directory.
Chapter 5: Policies and System Management.
Chapter 6: File System Enhancements.
Chapter 7: Server Management.
Chapter 8: PowerShell.
Chapter 9: Security.
Chapter 10: Clients, Interoperability, and Printing.
Chapter 11: Performance Enhancements.
Chapter 12: Terminal Server.
Chapter 13: Internet Information Services.
Chapter 14: Server Core.
Index.
Chapter
Page
Details
Date
Print Run
4
71-2
Text correction
Under "Distribution and Replication," the section beginning at the bottom of page 71, incorrect information is given regarding Active Directory for Windows 2000.

The PDC/BDC single master system applied to Windows NT 4, not to Windows 2000 as stated in the text.

To correct the paragraph, replace the beginning of the second sentence, "When AD first appeared,..." with "Prior to the introduction of AD,..."
On page 72, replace "Windows 2000" in the third sentence with "Windows NT 4," and change the final sentence of the paragraph to read "...changed dramatically with the introduction of Active Directory in Windows Server 2000."

None of these errors affect the information given about Windows Server 2008.
1/2/09

---

2
22
Text correction
In the last paragraph, the second sentence, "Here you can load device drives..." should read:
"Here you can load device drivers..."
9/11/09

---

2
39
Text correction
At the bottom of the page, after the heading "CONFIG.XML" "SCANSATE" should be "SCANSTATE"
9/11/09

---