Microsoft Works 6 for Windows For Dummies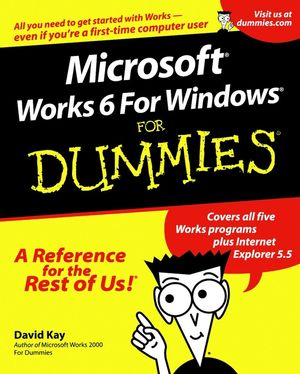 Microsoft Works 6 for Windows For Dummies
ISBN: 978-0-764-50787-8 January 2001 432 Pages
Download Product Flyer
Download Product Flyer
Download Product Flyer is to download PDF in new tab. This is a dummy description. Download Product Flyer is to download PDF in new tab. This is a dummy description. Download Product Flyer is to download PDF in new tab. This is a dummy description. Download Product Flyer is to download PDF in new tab. This is a dummy description.
Description
Maybe it's because it comes loaded on most PCs, but most people tend to miss the fact that Microsoft Works 6 really is an amazing collection of stuff—just what you might expect if the folks at Microsoft told you they were going to give you "the works." Instead of blowing several hundred bucks on the biggest and most muscle-bound word processor, database program, spreadsheet program, graphics, and communication software out there, you can use Microsoft Works 6 to do it all for a lot less money (or for free!) and with a lot less trouble. With Works you can create cool cards and crafts, design professional-looking newsletters and flyers, manage your personal finances, send faxes, put together mass mailings, surf the Web, manage your household, and a whole lot more.
If you've got Microsoft Works on your computer but don't quite know how to use it, then this is the book for you. This lighthearted guide gives you easy-to-follow instructions and tips that'll have you up and running in no tim e with the skills and confidence you need to:
Create goodlooking documents
Design and use spreadsheets
Crunch numbers
Set up group mailings with an address database
Have fun with charts and graphics
Send and receive e-mail
Explore the Internet
Featuring clear, step-by-step instructions, helpful screen captures, and exercises, Microsoft Works 6 For Dummies covers all of Works' powerful features. Among other things, you'll explore:
Starting Works and familiarizing yourself with Windows basics
Address books, letters, envelopes, labels, mail merge, and other automated tasks available in Works
Word processing—from typing and deleting to formatting, tables, and more
Spreadsheets—including everything from entering data to creating and copying formulas
Fields, record, data entry, views, filtering, reporting, and other database features
Outlook Express, Internet Explorer, and other cool Internet features
Your fun and easy guide to working with Microsoft Works, Microsoft Works 6 For Dummies gets you up a handle on Works—even if you're a first-time computer user.
Table of contents
Introduction.

PART I: Survival Skills.

Chapter 1: Wanna Start Something?

Chapter 2: Wrestling with Windows and Files.

Chapter 3: Basic Editing and Formatting.

Chapter 4: Putting Print on Paper.

PART II: Doing Anything Instantly (Or Almost).

Chapter 5: Timesaving Tasks and Templates.

Chapter 6: Creating an Address Book.

Chapter 7: Almost Instant Letters and Envelopes.

Chapter 8: Almost Instant Labels and Junk Mail.

Chapter 9: Almost Instant Ads and Newsletters.

Chapter 10: Almost Instant Databases.

Chapter 11: Almost Instant Graphs and Charts.

Chapter 12: Almost Instant Art.

PART III: Pursuing the Wily Word Processor.

Chapter 13: In Search of the Wily Word Processor.

Chapter 14: Hacking through the Jungle of Your Text.

Chapter 15: Keeping Up Appearances.

Chapter 16: Fancier Word Processing Documents.

PART IV: Setting Sail with Spreadsheets.

Chapter 17: Spreading Your First Sheets.

Chapter 18: Making Calculations.

Chapter 19: Tidying Up and Printing Your Spreadsheets.

PART V: Doing Active Duty at the Database.

Chapter 20: Reporting for Duty at the Database.

Chapter 21: Making Changes in Your Database.

Chapter 22: Finding and Filtering Your Data.

Chapter 23: Sorting, Reporting, and Calculating.

PART VI: Being Online and On Time.

Chapter 24: Exploring with Internet Explorer.

Chapter 25: Reaching Out with Outlook Express.

Chapter 26: Time Traveling with Calendar.

PART VII: The Part of Tens.

Chapter 27: Ten Things NOT to Do.

Chapter 28: Ten Solutions to Common Problems.

Index.

Book Registration Information.