Microsystem Engineering of Lab-on-a-chip Devices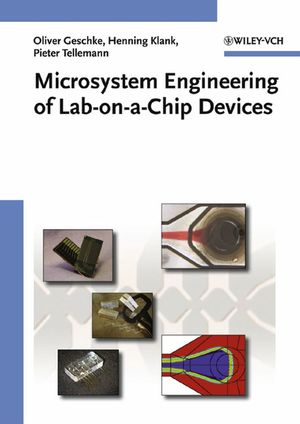 Microsystem Engineering of Lab-on-a-chip Devices
ISBN: 978-3-527-60636-8
Aug 2006
270 pages
Description
Written by an interdisciplinary team of chemists, biologists and engineers from one of the leading European centers for microsystem research, MIC in Lyngby, Denmark, this book introduces and discusses the different aspects of (bio)chemical microsystem development. Unlike other, far more voluminous and theoretical books on this topic, this is a concise, practical handbook, dealing with analytical applications, particularly in the life sciences.
Topics include:
* microfluidics
* silicon micromachining
* glass and polymer micromachining
* packaging
* analytical chemistry
illustrated with examples taken mainly from ongoing research projects at MIC.
Preface.
1. Introduction (Pieter Telleman).
2. Clean Rooms (Daria Petersen and Pieter Telleman).
3. Microfluidics - Theoretical Aspects (Jörg P. Kutter and Henning Klank).
4. Microfluidics - Components (Jörg Kutter, Klaus Bo Mogensen, Henning Klank, and Oliver Geschke).
5. Simulations in Microfluidics (Goran Goranovic and Henrik Bruus).
6. Silicon and Cleanroom Processing (Anders Michael Jorgensen and Klaus Bo Mogensen).
7. Glass Micromachining (Daria Petersen, Klaus Bo Mogensen, and Henning Klank).
8. Polymer Micromachining (Henning Klank).
9. Packaging of Microsystems (Gerardo Perozziello).
10. Analytical Chemistry on Microsystems (Jö P. Kutter and Oliver Geschke).
Subject Index.
"Insgesamt ist das Buch eine nützliche Ergänzung der auf dem Markt befindlichen einschlägigen Literatur und kann als Lehrbuch für das Grundstudium oder als Einführung in die Mikrofluidik dienen."
Jaisree Moorthy, David T. Eddington, David J. Beebe, University of Wisconsin, Madison (USA)
Angewandte Chemie 2004-116/34

"Über den Bereich Lab-on-a-Chip gibt es schon das ein oder andere editierte Buch. Das hier zu diskutierende Werk ist aber nicht nur aktueller, es bietet dem Leser auch mehr. ... Das Buch bietet profunde und logisch dargelegte Information und liest sich dabei leicht. Man merkt , dass hier "Überzeugungstäter" schreiben; die Begeisterung für das Thema schwingt immer wieder durch. Das Buch wird auch seinem Titel und damit Anspruch gerecht. Der Leser wird bestens über die Ingenieuraspekte zu Lab-on-a-Chip informiert."
Volker Hessel, Mainz,
Chemie Ingenieur Technik, 11/2004


"Jetzt liegt auch eine überschaubare, praxistaugliche Einführung vor, die nicht das gesamte Gebiet der Mikroreaktoren und mikromechanischen Systeme abdecken will, sondern sich auf analytische Anwendungen in der Chemie und den Lebenswissenschaften konzentriert."
BIO WORLD