Migrant Labor in China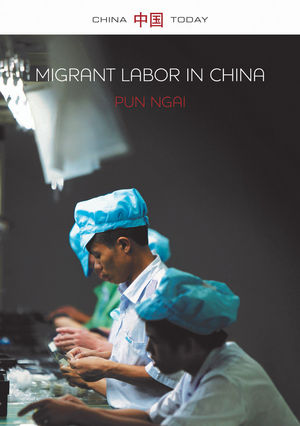 Migrant Labor in China
ISBN: 978-1-509-50338-4 April 2016 Polity 200 Pages
Download Product Flyer
Download Product Flyer
Download Product Flyer is to download PDF in new tab. This is a dummy description. Download Product Flyer is to download PDF in new tab. This is a dummy description. Download Product Flyer is to download PDF in new tab. This is a dummy description. Download Product Flyer is to download PDF in new tab. This is a dummy description.
Description
Long known as the world's factory, China is the largest manufacturing economy ever seen, accounting for more than 10% of global exports. China is also, of course, home to the largest workforce on the planet, the crucial element behind its staggering economic success. But who are China's workers who keep the machine running, and how is the labor process changing under economic reform?

Pun Ngai, a leading expert in factory labor in China, charts the rise of China as a "world workshop" and the emergence of a new labor force in the context of the post-socialist transformations of the last three decades. The book analyzes the role of the state and transnational interests in creating a new migrant workforce deprived of many rights and social protection. As China increases its output of high-value, high-tech products, particularly for its own growing domestic market of middle-class consumers, workers are increasingly voicing their discontent through strikes and protest, creating new challenges for the Party-State and the global division of labor.

Blending theory, politics, and real-world examples, this book will be an invaluable guide for upper-level students and non-specialists interested in China's economy and Chinese politics and society.
Table of contents
Map
Chronology
Acknowledgements
1. China and its Labor in the Neoliberal World
2. Capital Meets State: Re-emergence of the Labor Market and Changing Labor Relations
3. Building China: Struggle of Construction Workers
4. Making and Unmaking of the New Chinese Working Class
5. Spatial Politics: Production and Social Production of the Dormitory Labor Regime
6. Monopoly Capital in China: Foxconn Experience and Chinese Workers
7. Radicalization and Collective Action of the New Chinese Working Class
References
Reviews
"This book lucidly exposes the underside of the Chinese economic miracle, revealing the plight of the migrant laborers who are part of the world's largest working class. Drawing on rich ethnographic data as well as careful political and economic analysis, Pun Ngai examines the conditions these workers face daily both on the job and in the dormitories. She also documents their recent radicalization and militancy, suggesting that, in China at least, working-class struggle is alive and well, contrary to popular belief. An authoritative overview that will be useful for students and general readers alike."
Ruth Milkman, City University of New York
"The re-making of the Chinese working class is one of the greatest stories of contemporary world history. With her well-grounded account of the struggles of migrant workers, Pun Ngai has given us a generous and insightful version of this vast transformation."
Andrew Ross, New York University, author of Fast Boat to China: Lessons from Shanghai
"In a series of engaged and engaging studies of China's massive transformation, Pun Ngai exposes the despotic worlds of dormitory regimes, militarized factories, and subcontracted workers, creating a terrifying vision of an insurgent proletariat. Anyone interested in the future of planet Earth must take her findings into account."
Michael Burawoy, University of California, Berkeley


"Pun Ngai, one of the most cited scholars in this field, will again fascinate the readers with her recent book […]. Her book covers a topic that has received wide coverage, yet this work displays the vigour and passion of an activist scholar who used to complete her ethnography by working and living as a factory worker."

Journal of Contemporary Asia

"Stepping away from Marx's classical approach of capitalist production, Pun Ngai employs cultural class analysis through a theoretical lens by situating her research in the working labourers' living experience. This methodology provides a vivid portrait of the working labour of China."
Asian Journal of Social Science