Migration into Rural Areas: Theories and Issues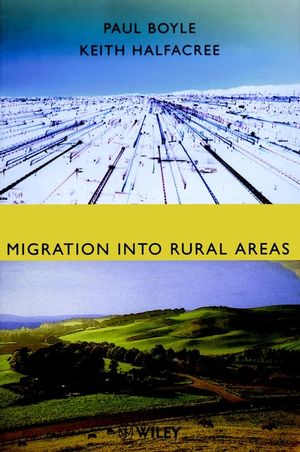 Migration into Rural Areas: Theories and Issues
ISBN: 978-0-471-96989-1 June 1998 338 Pages
Description
This innovative book brings together the world's leading scholars of rural migration to examine the theoretical construction of counterurbanisation as a pervasive feature of most modern Western societies and, in a series of specially written contributions based on original research, indicate the problem and issues that the process involves, touching on class, gender, community, conflict, economic and social change, isolation and lifestyle. This is an important summary of "state-of-the-art" research in this important field of population geography.
Table of contents
Migration, Rurality and the Post-Productivist Countryside (K. Halfacree & P. Boyle).

Studying Counterurbanisation and the Rural Population Turnaround (T. Champion).

Counterurbanisation and Social Class (T. Fielding).

Contrasting the Counterurbanisation Experience in European Nations (T. Kontuly).

Concentrated Immigration, Restructuring and the 'Selective' Deconcentration of the United States Population (W. Frey & K. Johnson).

The Hypothesis of Welfare-Led Migration to Rural Areas: The Australian Case (G. Hugo & M. Bell).

Inside Looking Out;
Outside Looking in. Different Experiences of Cultural Competence in Rural Lifestyles (P. Cloke, et al.).

Indigeneity, Identity and Locality: Perspectives on Swaledale (S. Fielding).

Class, Colonisation and Lifestyle Strategies in Gower (P. Cloke, et al.).

Middle Class Mobility, Rural Communities and the Politics of Exclusion (J. Murdoch & G. Day).

Neo-Tribes, Migration and the Post-Productivist Countryside (K. Halfacree).

Counterurbanisation, Fragmentation and the Paradox of the Rural Idyll (M. Gorton, et al.).

Planning by Numbers: Migration and Statistical Governance (S. Abram, et al.).

Neglected Gender Dimensions of Rural Social Restructuring (J. Agg & M. Phillips).

Migration into Rural Communities: Questioning the Language of Counterurbanisation (J. Allen & E. Mooney).

Migration into Rural Areas: A Collective Behaviour Framework? (P. Boyle and K. Halfacree).

List of Illustrations.

List of Tables.

List of Contributors.

Index.