Mill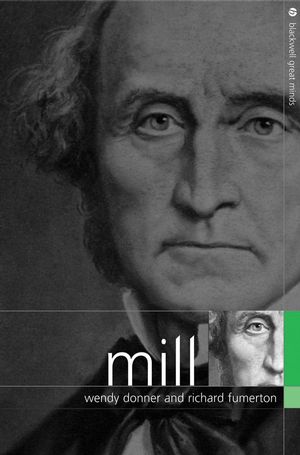 Mill
ISBN: 978-1-405-15087-3 January 2009 Wiley-Blackwell 224 Pages
Description
John Stuart Mill investigates the central elements of the 19th century philosopher's most profound and influential works, from On Liberty to Utilitarianism and The Subjection of Women. Through close analysis of his primary works, it reveals the very heart of the thinker's ideas, and examines them in the context of utilitarianism, liberalism and the British empiricism prevalent in Mill's day.


• Presents an analysis of the full range of Mill's primary writings, getting to the core of the philosopher's ideas.
• Examines the central elements of Mill's writings in easily accessible prose
• Places Mill's work and thought within the larger cultural and social context of 19th century Britain
• Illustrates the continued relevance of Mill's philosophy to today's reader
Acknowledgments.
Notes on Contributors.
Foreword: Cheryl Mwaria.
1. Introduction: The Writer in the Anthropologist: Maria D. Vesperi and Alisse Waterston.
Part I: Conceptions.
2. Speaking Truth to Power with Books: Howard Zinn.
3. Remember When Writing Was Fun? Why Academics Should Go On a Low Syllable, Active Voice Diet: Karen Brodkin.
4. The Bard: Carolyn Nordstrom.
5. Saggin' and Braggin': Lee D. Baker.
6. Stories for Readers: A Few Observations from Outside the Academy: Andrew Barnes.
Part II: Creations.
7. Writing Poverty, Drawing Readers: Stories in Love, Sorrow and Rage: Alisse Waterston.
8. Write‑ous Indignation: Black Girls, Dilemmas of Cultural Domination and the Struggle to Speak the Skin We Are In: Signithia Fordham.
9. Writing Truth to Power: Racism as Statecraft: Arthur K. Spears.
10. Remembering Octavia: Sharon Ball.
11. Believing in Anthropology as Literature: Ruth Behar.
Part III:  Receptions.
12. Walking in Zora's Shoes or "Seek[ing] Out de Inside Meanin' of Words": The Intersections of Anthropology, Ethnography, Identity, and Writing: Irma McClaurin.
13. Off the Shelf and Into Oblivion?: Catherine Kingfisher.
14. "Don't Use Your Data as a Pillow": S. Eben Kirksey.
15. The Trope of the Pith Helmet: America's Anthropology, Anthropology's America: Micaela di Leonardo.
16. The Book that Wrote Me: Roger Sanjek.
17. Fighting Words: Paul Farmer.
18. Taking Chances: Maria D. Vesperi.
Index.
• Presents an analysis of the full range of Mill's primary writings, getting to the core of his beliefs
• Examines the central elements of Mill's writings in easily accessible prose, and looks in depth at his concept of uutilitarianism
• Places Mill's work and thought within the larger cultural and social context of nineteenth-century Britain
• Illustrates the continued relevance of Mill's philosophy to today's reader