Mind Games: Inspirational Lessons from the World's Biggest Sports Stars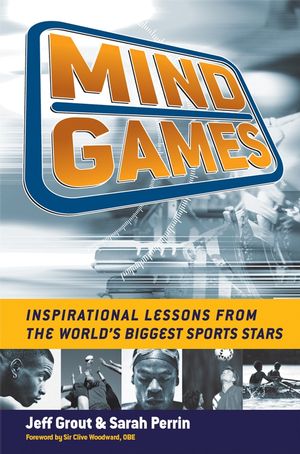 Mind Games: Inspirational Lessons from the World's Biggest Sports Stars
ISBN: 978-1-841-12628-9
Oct 2004, Capstone
424 pages
Description
What makes a winner - in business or in sport? Why do some people consistently break sales targets, cross the line first or hammer the ball in the net with pinpoint accuracy? Natural talent and disciplined training are vital. But with two equally matched professionals, something else makes the difference that provides that extra, champion factor: the mind.

Mind Games looks into the mental processes of sporting stars, identifying the attitudes and approaches that enable them to achieve peak performance, every time, and applies them specifically to the world of business. What are the key mental characteristics that make some people come out on top? How do winners channel adrenalin into controlled power while losers choke? What do sportsmen and women mean when they talk about 'the inner game', being 'in the zone' or being 'in the now'? What is it that coaches do to realise the potential they see? What are the lessons that business winners need to learn from sport's superstars?

Mind Games has the full involvement of over 30 sporting household names, including Sven-Göran Eriksson, Matthew Pinsent, Clive Woodward, Nick Faldo, Jonny Wilkinson. The authors draw on extensive first-hand experiences of acknowledged sporting champions across a range of sports, identifying personal techniques proven to have worked under the pressure of top-level competition. They also draw on the expertise of professional coaches and psychologists who have worked with sportsmen and women.
Foreword by Sir Clive Woodward OBE.
Foreword by Renzie Hanham and Ceri Evans.
Introduction.
Part I: Personality Power.
Chapter 1: True Grit.
Chapter 2: Family and Fate.
Chapter 3: I Believe!
Chapter 4: Positive Power.
Analysis I: Personality Power.
Part II: Motivational Matters.
Chapter 5: The Success Magnet.
Chapter 6: Fleeing Failure.
Chapter 7: Goals Galore.
Chapter 8: Heroes Have Heroes Too.
Analysis II: Motivational Matters.
Part III: Mental Training.
Chapter 9: Mental Rehearsal.
Chapter 10: Anchors and Triggers.
Chapter 11: Preparing for Pressure.
Chapter 12: Review and Revise.
Chapter 13: Coaching Relationships.
Analysis III: Mental Training.
Part IV: Peak Performance.
Chapter 14: Nerve Control.
Chapter 15: The Rock of Routine.
Chapter 16: Positive Talk.
Chapter 17: Into the Zone.
Chapter 18: Focus and Refocus.
Analysis IV: Peak Performance.
Part V: Team Spirit.
Chapter 19: The Right Combination.
Chapter 20: Team Build-up.
Chapter 21: Team Talks.
Analysis V: Team Spirit.
Chapter 22: Mind Games – A Footnote.
Appendices.
"...offers answers from sporting leaders to help us mere mortals make a go of things in all walks..." (Lads Mag)
"…fresh insights…" (Director, September 04)
"…4 stars…a cracking read…" (Business Life, September 04)
"…reinforces the power of the mind and leaves you in no doubt that sports psychology is worth looking into further." (British Runner, October 2004)
"...identifies the attitudes and approaches that enable sporting stars to reach their peak, and applies them to the corporate world…" (Human Resources, October 04)
"…will delight sports fans and those who get turned on by all that locker-room talk of "pressure" and performance" (Accounting and Business, October 2004) 
"both writers have lots of experience of these mental disciplines and the sporting contributions are all household names." (City to Cities, November/ December 2004)