Mind Joggers!: 5- to 15- Minute Activities That Make Kids Think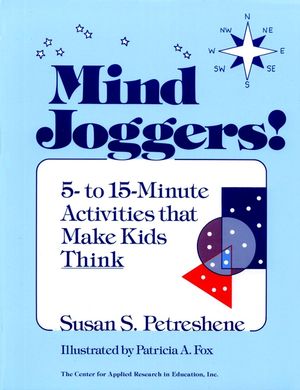 Mind Joggers!: 5- to 15- Minute Activities That Make Kids Think
ISBN: 978-0-876-28583-1
Oct 1985, Jossey-Bass
224 pages
Description
Here's an exciting, one-of-a-kind collection of "quickie" activities to help you stimulate the development of thinking skills in children of varying abilities and review basic skills at all elementary grade levels!
About This Resource.

Suggestions for Using These Activities Most Effectively.

THINKING AND REASONING ACTIVITIES.

Classification.

Making Quick Decisions.

Logic--Putting the Pieces Together.

Mini Stories for Solution.

MATH ACTIVITIES.

Relationships and Patterns.

Place Value.

Odd/Even.

Coordinates and Graphs.

Charts.

Tables.

Calendar.

Clock.

Money.

Geometry.

Perimeter/Area.

Greater Than/Less Than.

Fractions.

Problem-Solving Activities.

Estimation.

Computation.

Computation Magic Tricks.

Ratio.

LANGUAGE AND WRITING ACTIVITIES.

Rhymes.

Compound Words.

Phonics.

Spelling.

Descriptive Words.

Synonyms/Antonyms.

Vocabulary.

Prefixes, Suffixes, Roots.

Parts of Speech.

Add-On Stories.

LISTENING AND REMEMBERING ACTIVITIES.

Critical Listening.

Following Oral Directions.

Memory.