Mind of a Manager Soul of a Leader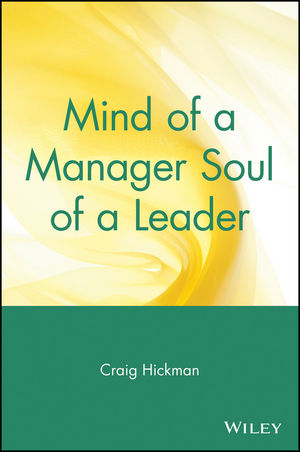 Mind of a Manager Soul of a Leader
ISBN: 978-0-471-56934-3
May 1992
304 pages
Description
The best business managers and leaders often have an adversarial relationship with each other, yet they have one thing in common: the search for that elusive advantage that will propel them and their organizations to greater success. It explores the practical aspects of the schism between managers and leaders, suggesting ways to exploit this natural tension to gain positive results. Offering a wealth of insights drawn from over 15 years as a top management consultant, Craig Hickman shows the ways in which the strengths of these two distinct personality types complement each other. From the strategic analyzer and the strategy planner to the concrete thinker and the visionary to the nit-picker and the risk-taker--he shows how each individual perspective contributes to overall success. While specific chapters are grouped around five major organizational success factors, it is designed for rapid, random access depending on the reader's interests.
Partial table of contents:

MANAGEMENT/LEADERSHIP ENVIRONMENTS.

Management-Dominated.

Conflict-Oriented.

Balanced and Integrated.

COMPETITIVE STRATEGY/ADVANTAGE.

Danger Plus Opportunity.

Isolate Plus Correlate.

Markets Plus Customers.

Incremental Plus Sweeping.

ORGANIZATIONAL CULTURE/CAPABILITY.

Authority Plus Influence.

Programs Plus People.

Instruction Plus Inspiration.

Control Plus Empower.

Consistency Plus Commitment.

EXTERNAL/INTERNAL CHANGE.

Duplicate Plus Originate.

Compromise Plus Polarize.

Reaction Plus Proaction.

Reorganize Plus Rethink.

INDIVIDUAL EFFECTIVENESS/STYLE.

Methods Plus Motives.

Hierarchy Plus Equality.

Smoothing Plus Confronting.

Formality Plus Informality.

Duties Plus Dreams.

BOTTOM-LINE PERFORMANCE/RESULTS.

Dependence Plus Independence.

Conserving Plus Risking.

Present Plus Future.

Good Plus Better.

Conclusion: Orechestrating Management and Leadership.

Bibliography.

Index.