Mindfulness in Adolescence: New Directions for Youth Development, Number 142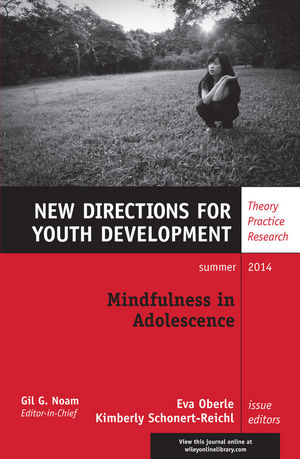 Mindfulness in Adolescence: New Directions for Youth Development, Number 142
ISBN: 978-1-118-96118-6
Aug 2014, Jossey-Bass
112 pages
Description
Addressing a timely topic in the field, this special issue covers the benefits of cultivating mindfulness to foster positive development and flourishing in adolescents. Presenting the theoretical and empirical basis of mindfulness training with adolescents, it includes specific programs, activities, and guidelines for bringing mindfulness skills and habits to this constituency.

This special issue:
Establishes a theoretical framework within mindfulness-based approaches in adolescence
Includes reviews of empirical evidence on the effectiveness of mindfulness-based interventions with youth, provides guidance for evaluation, and discusses limitations and future direction for research and practice
Aims to be a practical resource for educators and practitioners who work with adolescents and their families.
Issue Editors' Notes 1
Eva Oberle, Kimberly Schonert-Reichl
Executive Summary 5
1. Mindfulness and compassion training in adolescence: A developmental contemplative science perspective
Robert W. Roeser, Cristi Pinela 9
Embedded in a developmental contemplative science framework, mindfulness is introduced as a skill and habit that can foster positive development in youth; the theoretical and empirical basis of the emerging field ""mindfulness in adolescence"" is discussed in depth, and a future research agenda is illustrated.
2. Learning to BREATHE: An intervention to foster mindfulness in adolescence
Patricia C. Broderick, Jennifer L. Frank 31
The Learning to BREATHE program is introduced as a universal, school-based mindfulness intervention designed to promote important social and emotional skills in the school setting; the theoretical and empirical basis and a case example for implementation are discussed.
3. The Mindfulness-enhanced Strengthening Families Program: Integrating brief mindfulness activities and parent training within an evidence-based prevention program
J. Douglas Coatsworth, Larissa G. Duncan, Elaine Berrena, Katharine T. Bamberger, Daniel Loeschinger, Mark T. Greenberg, Robert L. Nix 45
A mindfulness-based family-centered approach to interventions for adolescents is introduced through the Mindfulness-enhanced Strengthening Families Program for adolescents' caretakers.
4. Assessing fidelity of core components in a mindfulness and yoga intervention for urban youth: Applying the CORE Process
Laura Feagans Gould, Tamar Mendelson, Jacinda K. Dariotis, Matthew Ancona, Ali S. R. Smith, Andres A. Gonzalez, Atman A. Smith, Mark T. Greenberg 59
The development, implementation, and evaluation of core components of a mindfulness and yoga intervention—implemented as a community-academic partnership—are presented and discussed.
5. Mindfulness in practice: Considerations for implementation of mindfulness-based programming for adolescents in school contexts
Molly Steward Lawlor 83
Mindfulness-based intervention and prevention programs for youth and teachers are reviewed, and strategies for successfully bringing mindfulness into the school setting are considered.
Index 97