Minecraft For Dummies Collection, 3-Book Bundle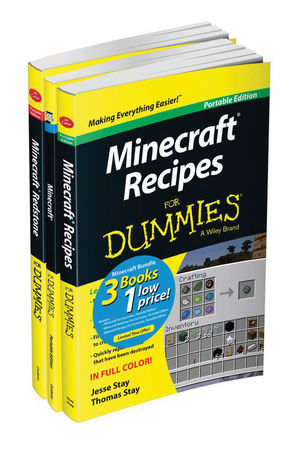 Minecraft For Dummies Collection, 3-Book Bundle
ISBN: 978-1-119-02493-4
Oct 2014
592 pages
Product not available for purchase
Description
Three Minecraft titles that will help you achieve one goal — becoming a better player
The Minecraft For Dummies Collection, 3-Book Bundle delivers Minecraft For Dummies, Minecraft Redstone For Dummies, and Minecraft Recipes For Dummies in portable editions. Each title tackles a different aspect of Minecraft gameplay, and helps you hone your playing, crafting, and building skills so that you become a better player. Along the way, you'll gain valuable insights on how to make the most of your time in Minecraft. From getting set up to play, to building amazing machines with Redstone, to the recipes you will need to succeed, this bundle offers essential information for all Minecraft players.
Three of the most informative Minecraft titles in one bundle
Minecraft For Dummies covers choosing a gaming platform, creating with blocks, defending your creations, travelling across the biomes, and winning the game by defeating the enderdragon
Minecraft Redstone For Dummies covers all aspects of working with Redstone, including obtaining, mining, smelting, using repeaters, and circuit components
Minecraft Recipes For Dummies includes insights on how to find resources, make a shelter, craft tools, armor, and weapons, with Minecraft recipes
If you're looking to gain a better understanding of everything Minecraft, look no further than this bundle.