Mineralized Tissues in Oral and Craniofacial Science: Biological Principles and Clinical Correlates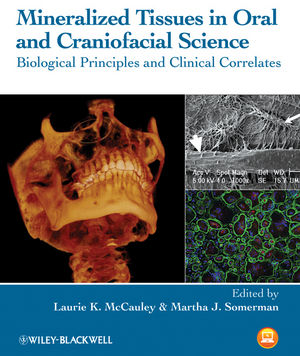 Mineralized Tissues in Oral and Craniofacial Science: Biological Principles and Clinical Correlates
ISBN: 978-1-118-27822-2 March 2012 Wiley-Blackwell 392 Pages
Description
Mineralized Tissues in Oral and Craniofacial Science is a major comprehensive update on knowledge in the field of mineralized tissues in the oral and craniofacial region. Drs. McCauley and Somerman assembled an international team of researchers and clinicians, offering a global perspective on the current knowledge in this field. Basic and clinical correlates reinforce the significance of research to clinical diagnoses and therapies, written in a manner that lends easily to their use for case study teaching venues.



Section 1 features the many aspects of bone in the craniofacial region, including embryology, cell biology, and stem cell biology. Section 2 focuses on teeth-tooth development, dentin, enamel, cementum, and tooth regeneration. Section 3 discusses the interaction between bones and teeth, including those associated with inflammatory processes, periodontal ligaments, biomechanics, and other impact factors-such as nutrition, metabolic bone diseases and therapeutic modalities.

The novel approach of linking the basic principles of the cell and molecular biology of hard tissues to clinical correlates will appeal to readers at all levels of their research careers, both students and faculty; faculty interested in a comprehensive text for reference; and  clinicians interested in the biologic aspects of bones and teeth.
Contributors vii
Preface xv
Acknowledgments xvii
Foreword xix
Section 1 Bones of the oral-dental and craniofacial complex 1
1 Embryology of craniofacial bones 3
Antonio Nanci and Pierre Moffatt
2 Clinical correlate: cleft lip and palate 13
Emily R. Gallagher and Joel Berg
3 Cell and molecular biology of the osteoclast and bone resorption 17
Martin Biosse-Duplan, William C. Horne, and Roland Baron
4 Clinical correlate: osteopetrosis 29
Paul C. Edwards and Nasser Said-Al-Naief
5 Clinical correlate: CLCN7-associated autosomal recessive osteopetrosis 35
Piranit Nik Kantaputra
6 Osteoblasts of craniofacial bone 43
Renny T. Franceschi, Chunxi Ge, and Christopher G. Wilson
7 Clinical correlate: cleidocranial dysplasia 59
Shu Takeda, Nobuhiko Haga, and Keiji Moriyama
8 Cell biology of craniofacial bone: osteocytes 63
Lynda F. Bonewald
9 Clinical correlate: Van Buchem disease 71
H.-J. Prins, A.L.J.J. Bronckers, and J. Klein-Nulend
10 Stem cell biology in the craniofacial apparatus 79
Carolina Parada, Kentaro Akiyama, Yang Chai, and Songtao Shi
11 Clinical correlate: stem cell therapy for craniofacial bone regeneration 93
Giorgio Pagni, William V. Giannobile, and Darnell Kaigler
12 Extracellular matrix and mineralization of craniofacial bone 99
Marc D. McKee, Monzur Murshed, and Mari T. Kaartinen
13 Clinical correlate: osteogenesis imperfecta 111
Peter H. Byers
Section 2 Teeth 117
14 Tooth development 119
Irma Thesleff and Emma Juuri
15 Clinical correlate: tooth agenesis 129
Rena N. D'Souza and Gabriele I. Mues
16 Dentin 135
Chunlin Qin and Jian Q. Feng
17 Clinical correlate: dentinogenesis imperfecta, restorative procedures, and caries 143Yong-Hee Patricia Chun and Jan CC. Hu
18 Enamel fabrication: the story of amelogenesis 153
Carolyn W. Gibson and Malcolm L. Snead
19 Clinical correlate: amelogenesis imperfecta 163
Rochelle G. Lindemeyer
20 Cementum 169
Brian L. Foster and Martha J. Somerman
21 Clinical correlate: case study of identical twins with cementum and periodontal defects resulting from odontohypophosphatasia 183
Thaisângela L. Rodrigues, Ana Paula Georgetti, Luciane Martins, João S. Pereira Neto, Brian L. Foster, and Francisco H. Nociti Jr.
22 Dental engineering: tooth regeneration 191
Weibo Zhang and Pamela C. Yelick
23 Clinical correlate: periodontal regeneration 201
Jia-Hui Fu and Hom-Lay Wang
24 Clinical correlate: natural tooth regeneration 207
Gary E. Heyamoto
25 Clinical correlate: regenerative endodontics in an immature tooth with pulpal necrosis and
periapical pathosis 211
Tatiana M. Botero, Christine M. Sedgley, Martha I. Paniagua, and Diego M. Tobón
Section 3 Bones and teeth 217
26 Bone and tooth interface: periodontal ligament 219
P. Mark Bartold
27 Clinical correlate: two cases of destructive periodontal disease 231
Rahime Meral Nohutcu
28 Periodontal disease and infl ammationinduced bone remodeling 237
Dana T. Graves, Elliot D. Rosenstein, Carlos Rossa Jr., and Joseph P. Fiorellini
29 Clinical correlate: endodontic lesions 249
Matthew DiAndreth and Hongjiao Ouyang
30 Biomechanics of teeth in bone: function, movement, and prosthetic rehabilitation 255
Susan W. Herring
31 Clinical correlate: biomechanics of teeth in bone 269
Gregory King, Geoffrey Greenlee, Paola Leone, and Gregory Vaughn
32 Impact of metabolic bone disease on craniofacial bones and teeth 277
Jill Bashutski, L. Susan Taichman, and Laurie K. McCauley
33 Clinical correlate: renal osteodystrophy 291
Flavia Pirih, Gabriella Tehrany, and Tara Aghaloo
34 Mineral metabolism and its impact on craniofacial bones and teeth 297
Jian Q. Feng and Chunlin Qin
35 Clinical correlate: mineral metabolism and disruption of dentoalveolar development in a case of craniometaphyseal dysplasia (CMD) 305
Hai Zhang and Brian Foster
36 Sun, nutrition, and the mineralization of bones and teeth 311
Philippe P. Hujoel
37 Clinical correlate: vitamin D deficiency 327
Ana Lucia Seminario and Elizabeth Velan
38 Impact of therapeutic modalities on craniofacial bones and teeth 331
Purnima S. Kumar and Angelo Mariotti
39 Clinical correlate: osteoradionecrosis of the jaws (ORN) 343
Nicholas M. Makhoul and Brent B. Ward
Index 349
Figures from the book are available for download at www.wiley.com/go/mccauley
"Notwithstanding these minor points, the book is very well structured and provides a comprehensive overview of all the mineralized tissues in in the craniofacial complex, with interesting aspects of the requirements for successful clinical applications."  (Implant Dentistry, 1 June 2013)
"In summary , this book is commendable  for the extent of its content and its ability to remain up to date.   It serves the needs not only of first-year students , but also of various specialists in training and all practitioners looking for a rationale in their diagnosis and treatment."  (British Dental Journal, 8 December 2012)
Clinical correlates link research  in the lab to the patient in the chair
Comprehensive overview of latest research in hard tissues of  the oral and craniofacial regions
International contributors provide a global perspective on the latest research and clinical correlates linked with mineralized tissues
Downloadable photographs available at wiley.com for academic presentation purposes