Mirrors to One Another: Emotion and Value in Jane Austen and David Hume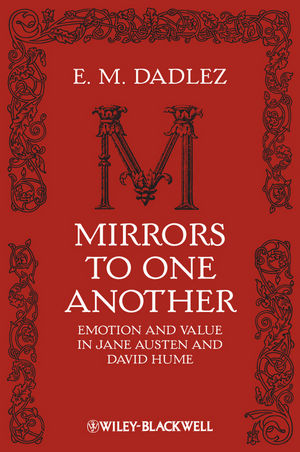 Mirrors to One Another: Emotion and Value in Jane Austen and David Hume
ISBN: 978-1-405-19348-1
Apr 2009, Wiley-Blackwell
256 pages
Description
A compelling exploration of the convergence of Jane Austen's literary themes and characters with David Hume's views on morality and human nature.
Argues that the normative perspectives endorsed in Jane Austen's novels are best characterized in terms of a Humean approach, and that the merits of Hume's account of ethical, aesthetic and epistemic virtue are vividly illustrated by Austen's writing.
Illustrates how Hume and Austen complement one another, each providing a lens that allows us to expand and elaborate on the ideas of the other
Proposes that literature may serve as a thought experiment, articulating hypothetical cases which allow the reader to test her moral intuitions
Contributes to ongoing debates on the philosophy of literature, ethics, and emotion
Preface.
1. How Literature Can Be a Thought Experiment: Alternatives to and Elaborations of Original Accounts.
2. Literary Form and Philosophical Content.
3. Kantian and Artistotelian Accounts of Austen.
4. Hume and Austen on Pleasure, Sentiment, and Virtue.
5. Hume and Austen on Sympathy.
6. Hume's General Point of View and the Novels of Jane Austen.
7. The Useful and the Good in Hume and Austen.
8. Aesthetics and Humean Aesthetic Norms in the Novels of Jane Austen.
9. Hume and Austen on Good People and Good Reasoning.
10. 'Lovers,' 'Friends,' and other Endearing Appellations.
11. Hume and Austen on Pride.
12. Hume and Austen on Jealousy, Envy, Malice and the Principle of Comparison.
13. Indolence and Industry in Hume and Austen.
14. What Hume's Philosophy Contributes to Our Understanding of Austen's Fiction; What Austen's Fiction Contributes to Our Understanding of Hume's Philosophy
"Dadlez unpacks the major philosophical trends evident in both Austen and Hume to show that Austen's works were influenced by the

 

intellectual climate resulting from Hume's studies." (Consciousness, Literature and the Arts
, December 2009)
"Dadlez says explicitly that her argument is intended to be cumulative: that is, the text reveals the posited relationship between Hume and Austen gradually, through a series of smaller demonstrations as she moves from topic to topic. This makes her book an extremely pleasant read for an Austen aficionado.... Indeed, that the book's strength lies in the details…suggests that it will be of particular value in interdisciplinary contexts: it has the double function of introducing Austen and her literature to philosophers, and Hume and his moral philosophy to students of literature." (Notre Dame Philosophical Reviews, February 2010)
Makes a compelling case for the claim that the normative perspectives endorsed in Jane Austen's novels are best characterized in terms of a Humean approach, and that the merits of Hume's account of ethical, aesthetic and epistemic virtue are vividly illustrated by Austen's writing
Proposes that literature may serve as a thought experiment, articulating hypothetical cases which allow the reader to test her moral intuitions
Contributes to ongoing debates on the philosophy of literature, and does so by considering the work of a single author in detail and in depth
Goes beyond establishing similarities between Hume and Austen to assert the more ambitious claim that Hume and Austen complement one another, each providing a lens that allows us to expand and elaborate on the ideas of the other