Missional Map-Making: Skills for Leading in Times of Transition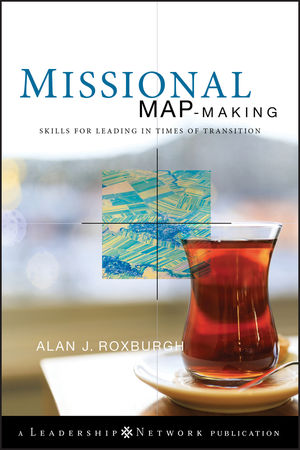 Missional Map-Making: Skills for Leading in Times of Transition
ISBN: 978-0-470-58322-7 December 2009 Jossey-Bass 224 Pages
Description
Guidance for church leaders to develop their own maps and chart new paths toward stronger, more vibrant, and more missional congregations
In the burgeoning missional church movement, churches are seeking to become less focused on programs for members and more oriented toward outreach to people who are not already in church. This fundamental shift in what a congregation is and does and thinks is challenging for leaders and congregants. Using the metaphor of map-making, the book explains the perspective and skills needed to lead congregations and denominations in a time of radical change over unfamiliar terrain as churches change their focus from internal to external.
Offers a clear guide for leaders wanting to transition to a missional church model
Written by Alan Roxburgh, a prominent expert and practitioner in the missional movement
Guides leaders seeking to create new maps for leadership and church organization and focus
A Volume in the popular Leadership Network Series
This book is written to be accessible to all Christian congregational styles and denominations.
Introduction: An Uncertain Journey.
Part One When Maps No Longer Work.
Chapter One Maps Shaping Our Imaginations in Modernity.
Chapter Two Leading in an In-Between Time.
Chapter Three When Common Sense Is No Longer Common.
Chapter Four From Playing Pool to Herding Cats.
Chapter Five Why Strategic Planning Doesn't Work in This New Space and Doesn't Fit God's Purposes.
Chapter Six Eight Currents of Change and the Challenge of Making New Maps.
Chapter Seven Lessons from the Formation of the Internet for Leading in This New Space.
Part Two The Map-Making Process.
Chapter Eight Cultivating a Core Identity in a Changed Environment.
Chapter Nine Cultivating Parallel Cultures of the Kingdom.
Chapter Ten Map-Making Partnerships Between a Local Church and Neighborhoods and Communities.
Notes.
The Author.
Index.