Missouri: The Heart of The Nation, 3rd Edition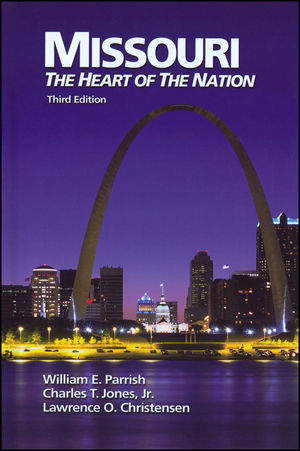 Missouri: The Heart of The Nation, 3rd Edition
ISBN: 978-0-882-95996-2
Jun 2012
473 pages
Description
Combining a chronological overview with topical development, this team of esteemed authors presents in engaging detail the rich and varied history of Missouri, a state that has played a pivotal role in the history of the nation, from the pre-Columbian period to the present.
In a clear, engaging style that all students of Missouri history are certain to enjoy, the authors explore such subjects as Missouri's Indian peoples, French and Spanish settlement, slavery, the Civil War and Reconstruction, politics from territorial days to the present, cultural as well as industrial development, both world wars, historical and recent demographics, and the difficult choices that Missourians faces regarding the economy, the environment, and education as the twenty-first century unfolds.
Featuring an entirely new chapter as well as new maps, photographs, newly revised Suggestions for Further Reading, and a comprehensive index, this latest edition of our popular survey text—available in paperback as well as hardcover—will continue to enlighten and engage all those who call Missouri home.
Introduction to the Third Edition vii
One. The Original Missourians 1
Two. The French and the Spanish 18
Three. The Coming of the Americans and the Statehood Crisis 39
Four. Missouri and the Opening of the American West 64
Five. The Age of Benton 84
Six. Slavery in Missouri 109
Seven. Political Turmoil and the Kansas War 131
Eight. An Expanding Missouri, 1830-1860 153
Nine. The Civil War 172
Ten. Radical Rule 197
Eleven. A Maturing Economy, 1860-1890 223
Twelve. Angry Farmers and Urban Reformers 245
Thirteen. Missouri Develops Culturally 267
Fourteen. World War I and the 1920s 290
Fifteen. The Pendergast Era 315
Sixteen. The 1945 Constitution and Postwar Politics 336
Seventeen. An Urbanizing Missouri: Postwar Economic Development 360
Eighteen. Modern Missouri: Educational and Cultural Development 380
Nineteen. Missouri During the 1980s 401
Twenty Missouri Since the 1990s 417
Appendix 443
Index 447