Mistreatment in the Workplace: Prevention and Resolution for Managers and Organizations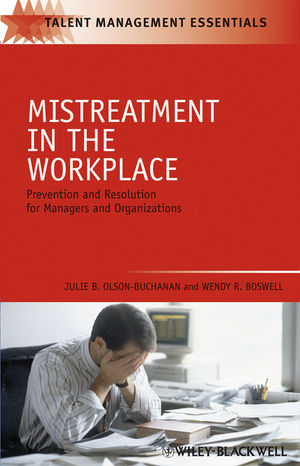 Mistreatment in the Workplace: Prevention and Resolution for Managers and Organizations
ISBN: 978-1-405-17714-6
Apr 2009, Wiley-Blackwell
224 pages
Description
Integrating findings from research and practice in order to make practical, evidence-based recommendations for preventing and addressing systemic workplace mistreatment, this book:
Focuses on the recursive effects of mistreatment in organizations and how individual and organizational well-being can be enhanced by carefully-designed policies and procedures.
Creates a complete picture by bringing together relevant research from fragmented fields such as organizational psychology, labor relations and labor economics.
Enables you to identify best practices for resolving mistreatment occurrences, for creating a civil workforce, and preventing recursive mistreatment.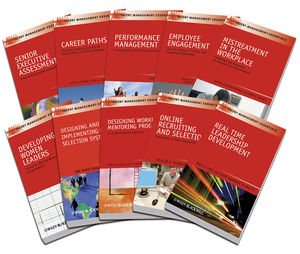 Purchased Together:$252.95
Preface.
1: Introduction.
2: Identifying Mistreatment.
3: Workplace Scanning for Potential, Nascent, and Existent Mistreatment Issues.
4: Preventing Mistreatment through Workplace Practices.
5: Getting Started on Designing Effective Dispute Resolution Systems.
6: Dispute Resolution System Options.
7: Contemporary Best Practices: State-of-the-Art Dispute Resolution Systems.
.
8: Evaluating, Modifying and Learning from Dispute Resolution Systems.
9: Repairing or Addressing Disputants' Relationship.
.
10: Mistreatment Prevention and Resolution – The Big Picture.
Further Reading & References.
Endnotes
"In this results-based world, where employers have higher demands and expectations of their workforce, books such as this are a good solid base from which to deliver a realistic approach to address managers' development needs. This book contains good practical examples of workplace mistreatment and is clearly written with case studies and research findings with analytical text, which are very useful for practitioners and in supporting academic work. The structure of the book makes it adaptable as a "quick dip" book for managers looking for best practice solutions, while also having a sound narrative resulting in academic rigor appropriate to research at all levels." (Human Resource Management Journal, January 2011)

 
Integrates findings from research and practice to identify practical, evidence-based recommendations for preventing and fully addressing systemic workplace mistreatment

Focuses on the recursive effects of mistreatment in organizations and how individual and organizational well-being can be enhanced by carefully-designed policies and procedures

Creates a complete picture by bringing together relevant research from fragmented fields such as organizational psychology, labour relations and labour economics

Enables readers to identify best practices for resolving mistreatment occurrences, and for creating a civil workforce and preventing recursive mistreatment